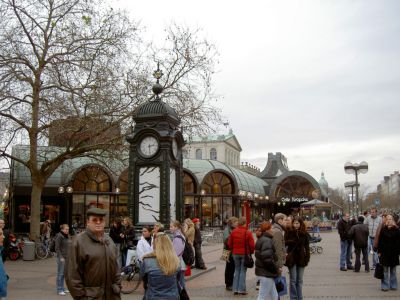 Kropcke Platz (Kropcke Square), Hanover
Kropcke Square can't be missed--mostly because it's such a significant crossroads in modern Hannover. You can't miss it because it is unavoidable that you will pass through here at some point during your stay! It's geographically at the city center, and the locals use it as a meeting place. Below the surface lies the largest hub of Hannover's light rail system.

The intersection has existed since 1843 when it was part of a greater city planning scheme of expanding the metropolitan area. Kropcke Square was to replace the market square near the same location. The first trams were horse-drawn in the 1870s, but they were electrified in the 1930s.

The entire area was heavily bombed during World War II. The only surviving structure was the famous Kropcke clock. The clock was originally a weather column erected in 1885. While it survived the war, it was severely damaged and was replaced ten years later. In 1977, a simplified version of the original weather column was installed.

The area has been pedestrian only since the 1970s.

The intersection takes its name from a renowned cafe that operated here. The Cafe Kropcke was an ornate cast-iron building modeled to look like a Parisian cafe. It opened as the Cafe Robby in 1867, but waiter Wilhelm Kropcke took over in 1895. The cafe had a reputation beyond the limits of Hannover, and eventually, the entire square came to be known by the name of the cafe. The square was officially renamed in 1948.
Kropcke Platz (Kropcke Square) on Map
Walking Tours in Hanover, Germany