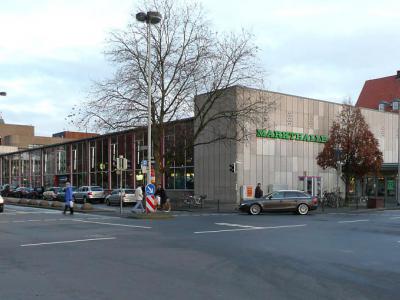 Markthalle (Market Hall), Hanover
The current Market Hall was built in 1954. The original building was built in 1892 but was destroyed during World War II.

Historically, farmers brought their goods into Hanover and sold them in public marketplaces. However, by the end of the 19th century, the city was concerned about hygiene in the open markets.

In addition, city traffic flow was blocked by market handcarts. As a result, the city built an indoor market hall in 1892. This hall accommodated 243 sellers.

The new Market Hall was built on the old hall's foundation. The current hall has 73 stalls offering a variety of wine, fish, sausage, meat, vegetables, and fruit. Vendors also offer hot food and international specialties. You can shop for groceries or enjoy a cafe meal.

Market Hall is a popular place for residents to meet and enjoy a coffee or glass of wine together. It's locally known as the "belly of Hannover."

Visitors will find a memorial statue dedicated to Karoline Duhnsen at Market Hall's main entrance. Duhnsen is considered the market's original vendor, and she traveled to the market every day for 50 years to sell meat and sausage. Duhnsen died in 2001.
Markthalle (Market Hall) on Map
Walking Tours in Hanover, Germany