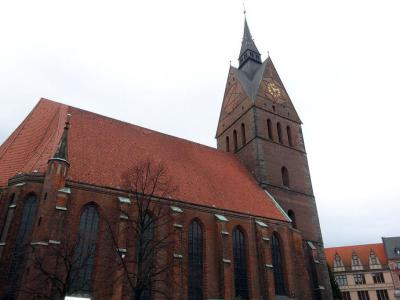 Marktkirche (Market Church), Hanover
Market Church was initially built in the 14th century. It was built in the North German brick gothic style and is Germany's southernmost example of this unique architectural style.

The church's tall western tower symbolized Hannover's wealth and power. The tower is one of Hannover's most recognizable landmarks. The tower has 11 bells. The Bell of Christ and Peace is Lower Saxony's largest bell and reserved for special occasions.

The church's interior features a carved wooden altar that dates to the late 15th century. The altar's front depicts the Passion of Christ. The altar's back shows scenes from the lives of Saint George and Saint James, the church's patron saints.

The church's roof and naves were damaged by World War II bombs in 1943 and were rebuilt in 1952.

The church's organ was built in 1954 and has 64 stops.

A giant pentagram on the church's western tower is one of its most dramatic elements. In addition, a hexagram surrounds the tower's clock. These symbols were used by ancient pagans and then adopted by early Christians. The pentagram was used to symbolize the epiphany.

Why You Should Visit:
Very impressive church with an imposing presence; easy to find and prettily placed in a lively space in town.
The interior is clean, the design is simple yet fascinating, and the organ is really beautiful.

Tip:
Try to be there when the organ plays – it's fantastic.
Marktkirche (Market Church) on Map
Walking Tours in Hanover, Germany