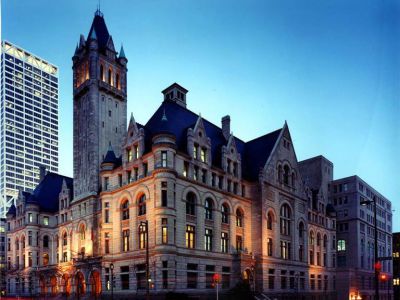 Milwaukee Federal Building, Milwaukee
The Federal Building has been in use since the late 19th century. It was designed by architect W.J. Edbrooke in a Richardsonian Romanesque style. The building sits on land that was originally owned by Milwaukee's founder, Solomon Juneau.

The five-story building is made from granite and encompasses a full city block. Tourists will see Roman columns and arches, steeply pitched roofs, multiple towers and a belfry. Though it was completed in 1892, more space was added to the building during the Great Depression. A refurbishment project commenced in 1989 when the interior of the building was returned to its original design and colors while the stone and brickwork was improved. This restoration project, which was completed in 1996, also added more office space and a central heating and cooling system.

Visitors to Milwaukee can view the Federal Building as they walk across Wisconsin Avenue. They will also see other historic buildings surrounding the Milwaukee Federal Building. These include the Pfiser Hotel and the Milwaukee Club.
Milwaukee Federal Building on Map
Walking Tours in Milwaukee, Wisconsin