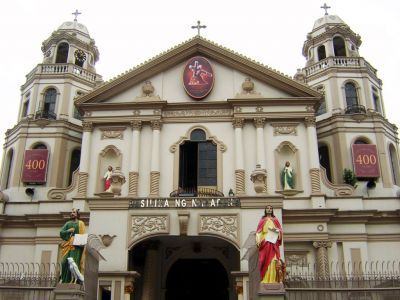 Minor Basilica of the Black Nazarene, Manila
Quiapo church, also known as St.John the Baptist Parish, is located in the District of Quiapo, Manila and is one the most famous churches in the Philippines. This Roman Catholic Church, houses the venerated statue of Jesus Christ, known as the Black Nazrene and hence the official name, Minor Basilica of the Black Nazrene. The Church currently belongs to the Archdiocese of Manila.

Not only the church but also the statue of the Black Nazarene were destroyed several times. The building was destroyed as a result of the fires of 1791 and 1929. In 1645 and 1863, the structure suffered damages due to earthquakes. It was also bombed by the Americans during World War II and was finally reconstructed to accommodate devotees in 1984.

The dark wooden statue of Christ carrying a cross is revered and believed to be miraculous by several Filipino Catholics. The statue was initially light colored but an accidental fire during its shipping from Mexico turned it dark. Although, the statue survived this fire, it was destroyed in 1945 during the Battle of Manila and was replaced by a replica given by the Recollect Priests. In association with its icon, the church has three annual processions on the 9th of January, New Years Day and the Good Friday. For public veneration, the Black Nazarene is brought out during these processions for the 8 million attendees.
Minor Basilica of the Black Nazarene on Map
Walking Tours in Manila, Philippines
Useful Travel Guides for Planning Your Trip
--- Manila Shopping: 20 Filipino Goods To Bring Home
An archipelago of 7,000+ islands, The Philippines is a diverse nation populated by different tribes, each having their own culture and traditions. In Manila, one can find a whole lot of things worth keeping as a Filipino memento; it just might take one a little while to figure out what's best...