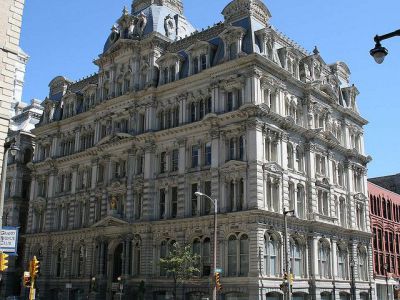 Mitchell Building, Milwaukee
The Mitchell Building was erected in 1876 as a home to Alexander Mitchell's booming businesses. The building was specifically designed for his banking and insurance companies. It was designed in Second Empire style by architect E. Townsend Mix.

Mix was known for designing a number of ornate buildings in and around the Milwaukee area. Other structures completed by Mix include the National Soliders Home, the Wisconsin Leather Company Building, the Mackie Building and the Immanuel Presbyterian Church. While the Mitchell Building is the best surviving example of Mix's designs, visitors can see his other buildings while they explore the city.

The Mitchell building's material consists of marble, Minnesota granite and limestone. This combination has allowed the building to remain sturdy over the years. In 1973, the Mitchell Building was added to the National Register of Historic Places. The Mitchell building is thought to rest on the site of the home of Milwaukee founder Solomon Juneau.
Walking Tours in Milwaukee, Wisconsin