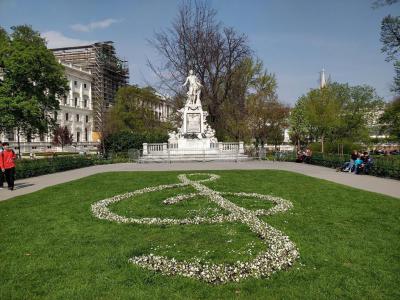 Mozart Monument, Vienna
In the quiet oasis of Burggarten stands an elegant statue of Mozart, moved here from the Albertinaplatz after the war, when the city's charred ruins were being rebuilt. This intimate place is an excellent spot for Mozart lovers to have a photo with the 7.5-meter-high statue made by architect Karl König (1841–1915) and sculptor Viktor Tilgner (1844–96) which features Mozart with a music stand. The putti on the socle, representing the power of Mozart's music, are stylistically suggestive of Art Nouveau.

On the front, a relief refers to two scenes of Mozart's opera "Don Giovanni", while above it are a stone keyboard, masks, instruments and music-making cherubs. The rear side relief shows the six-year-old prodigy at the piano, with beloved sister Maria Anna ("Nannerl") and father Leopold by his side. Unfortunately, the siblings' partnership would experience a sudden and severe fracture in 1769, when Nannerl turned 18, meaning she was of marriageable age, which, as far as father Leopold was concerned, signaled the end of her performing career. As father and son continued to travel Europe and play to distinguished audiences, Nannerl remained at home with her mother.

From spring to autumn, the statue is surrounded by a small manicured lawn with a trebleclef-shaped flower bed. The steeples of St. Stephen's and the Augustinerkirche, old trees and blooming shrubs add to the atmosphere. Noteworthy, also, is the nice sculpture of famous philosopher Goethe in the same area.
Walking Tours in Vienna, Austria
Useful Travel Guides for Planning Your Trip
--- Top 16 Austrian Things to Buy in Vienna
Vienna stool, Viennese schnitzel, Viennese waltz, Vienna sausage, Viennese apple strudel... There's so much Vienna to it, that you might think you've heard it all. Luckily, chances are that you haven't and there's much more in store left to be discovered about this fascinating... 7 Ultimately Austrian Foods to Taste in Vienna
Once the center of the vast Hapsburg Empire, stretched from France in the West to Russia in the East, Austria has embraced many ethnic influences in its cuisine over the course of centuries. Many of the country's distinctive dishes reflect its multinational heritage. Coffee culture, for...