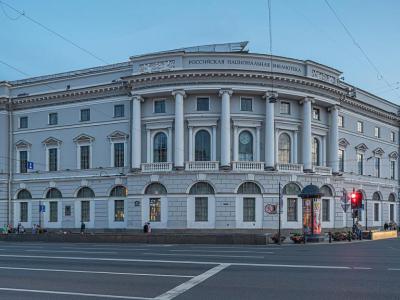 National Library of Russia, St. Petersburg
The National Library of Russia in Saint Petersburg is the oldest public library in the country and one of the largest in the world. Formerly known as the Imperial Public Library, it was established in 1795 by Catherine the Great and inaugurated on 14 January 1814. The Neoclassical building was designed by architect Yegor Sokolov.

At various times, the library's staff included prominent men of letters and scholars like Ivan Krylov, Anton Delvig and others. Throughout the 1850s, the NLR book collection grew exponentially, along with its readership. The influx of new visitors demanded larger facilities and prompted the arrival of such novelties as a reference desk, printed catalogs and guide books, lists of new acquisitions, and longer hours of service.

By 1913, the library had one million Russian publications (out of the total collection of three million titles), emerging as one of the world's greatest libraries and the richest manuscript collection in the country. The latter included Bede – an Anglo-Saxon manuscript, the Ostromir Gospel – the second oldest East Slavic book in existence, the Codex Zographenis – an illuminated manuscript Gospel Book, and the personal collection of Voltaire.

During the Soviet period, the library was decorated with the Order of the Red Banner of Labour in 1939 and remained operational even during the gruesome Siege of Leningrad. Towards the end of the 20th century, it undertook a large-scale digitization effort.

Today, as an all-Russian center of librarianship, the National Library contains over 33 million volumes, complete with the archives of Peter I, Catherine II, Nicholas II, Peter Tchaikovsky, Fyodor Chaliapin, and many other historic individuals.

Opening Hours:
Main reading rooms – 9 am to 9 pm Monday to Friday, and 11 am to 7 pm Saturday and Sunday.
Sight description based on Wikipedia.
National Library of Russia on Map
Walking Tours in St. Petersburg, Russia
Useful Travel Guides for Planning Your Trip
--- 16 Unique Russian Things to Seek in St. Petersburg
The "cradle of two revolutions", St. Petersburg bears cultural and historic significance for Russia that is hard to overestimate. Perhaps, nearly every stone in the downtown part of the city breathes history and can qualify as a memorable souvenir, although picking up them for such purpose...