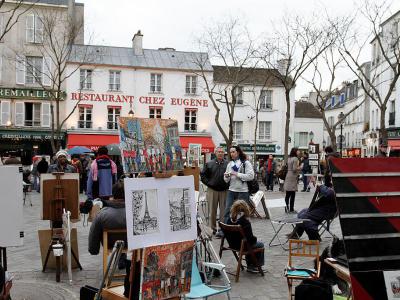 Place du Tertre (Tetre Square), Paris
Place du Tertre is a public square famous for hosting many of Paris's most celebrated artists, including Picasso, Toulouse-Lautrec, Van Gogh, and Maurice Utrillo. They created an artistic community here, drawn by the affordable rent and tax-free wine. Today, the artistic spirit continues to thrive, and visitors flock to the square to purchase local art and have their portraits painted.

The name "Place du Tertre" is sometimes translated as "Grave Hill", but a more accurate description is "public square on a small hill", perfectly capturing the charm and liveliness of this space.

Competition for artist space in Place du Tertre is fierce, with a ten-year waiting list for a small space of about three square feet that two artists share on alternate days. Only specific types of art, such as paintings, portraits, silhouettes, and caricatures, are allowed in the square.

A popular legend claims that the term "bistro" was coined in the square. In 1814, Russian troops were stationed here, and soldiers would shout "bystro," meaning "quick" in Russian, to urge their comrades to finish their drinks and return to their duties.

Today, the square is home to numerous bistros, cafes, and restaurants where visitors can revel in the lively atmosphere and watch the next generation of artists at work. While Picasso and Van Gogh may be absent, visitors can partake in the Parisian tradition of sitting outside a bistro, enjoying the fresh air, and admiring the local artwork.
Place du Tertre (Tetre Square) on Map
Walking Tours in Paris, France
Useful Travel Guides for Planning Your Trip
---