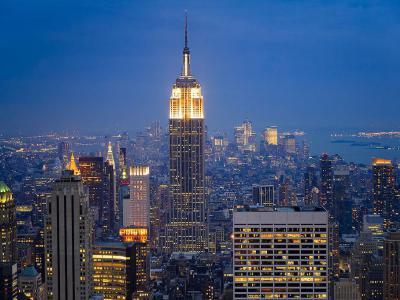 Rockefeller Center, New York
(must see)
In 1801, New York physician David Hosack bought 22 acres of open land from the city with an aim to establish the country's first botanical garden, the Elgin Botanic Garden. The latter had lasted only until 1811, for the lack of funds, following which the territory was taken over by Columbia University, in 1823.

In 1926, the property changed hands again when the Metropolitan Opera sought location for its new home; so the University leased the land to the theater's benefactor, John D. Rockefeller, Jr. After the stock market crashed, in 1929, the Met Opera move was canceled, and Rockefeller decided to build a mass media complex instead.

The ensued talks between Radio Corporation of America, National Broadcasting Company, and Radio-Keith-Orpheum Radio resulted in an agreement, in 1930, to build on the site an entertainment complex. Pursuant to this agreement, 228 buildings were demolished and 4,000 tenants relocated. Early on, the project was called "Radio City," "Rockefeller City," or "Metropolitan Square."

Presently, Rockefeller Center represents a compound of two complexes (comprising 14 Art Deco-style buildings), one solitary edifice on 51st Street (added in 1947), and four towers on the west side of Sixth Avenue. The venue covers all of Doctor Hosack's 22 acres, and, whilst there's no botanicals on the ground, it does have some rooftop gardens.

Radio City Music Hall occupies the western part of the Center. The Lower Plaza, at the heart of the complex, lends a sense of privacy, being sunken below street level. Architect Ieoh Ming Pei praised it as "the most successful open space in the United States, perhaps in the world." Most of the Plaza's outdoor area is taken up by an ice rink, installed in 1936.

In addition to the spectacular, unobstructed views of the NYC skyline opening from the top of the Rock's three levels of indoor and outdoor observation decks, the Center offers a shopping experience like no other. The abundant choice of popular local brands, international names, and up-and-coming designers makes it one of the best shopping destinations in Midtown Manhattan. This is where you come to realize that shopping is as much about the place as it is about what you buy.
Rockefeller Center on Map
Walking Tours in New York, New York
Useful Travel Guides for Planning Your Trip
---