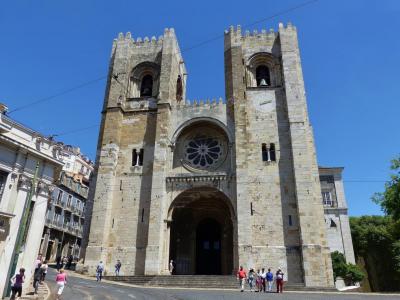 Santa Maria Maior (Cathedral of St. Mary Major), Lisbon
Santa Maria Maior, the city's oldest church, originally erected in 1147, stands as a testament to Lisbon's rich history. It was constructed on the former site of a Moorish mosque following the conquest of Lisbon by Christian forces led by King Afonso Henriquez. During this pivotal period, the relics of St. Vincent of Saragossa, the city's patron saint, were transported from Southern Portugal and enshrined here, where they have remained undisturbed.

Enduring substantial damage from the numerous destructive earthquakes that plagued Lisbon, the present-day Cathedral underwent reconstruction in the 20th century. This renovation imbued the structure with a predominantly medieval aesthetic, characterized by robust stone walls and fortress-like towers. This architectural style is a common feature among many Portuguese churches from the Christian conquest era, often used as strategic military bases for launching assaults against enemy forces.

Although the interior may appear somewhat 'plain' when compared to churches in other countries, it remains remarkably impressive, featuring Gothic arches, vaulted ceilings, and sections adorned with stained glass. Notable among its chapels is the Chapel of Saint Ildefonso, housing a carved sculpture of one of the first Portuguese Ambassadors, Lopo Pacheco, depicted with a loyal dog at his side. Additionally, the Cathedral includes a chapel dedicated to Saint Anthony of Padua, a celebrated figure born in Lisbon. Excavations in the courtyard have unearthed various artifacts dating back to the Visigothic, Roman, and Moorish periods.

Tip:
Admission to the Cathedral is free, and for a modest fee, you can also ascend partway up the tower to the Treasury between 10am and 5pm (please note that it is closed on Sundays).
Santa Maria Maior (Cathedral of St. Mary Major) on Map
Walking Tours in Lisbon, Portugal
Useful Travel Guides for Planning Your Trip
--- 17 Uniquely Portuguese Things to Buy in Lisbon
Formerly a major colonial power, Portugal has accumulated great knowledge in craftsmanship. While in Lisbon, you can treat yourself to a vast variety of quality things: wines, ceramics, jewellery, leather goods, books and many more. Most shops in Lisbon open at 9 or 10am, and close in the evening at... Top 10 Cafes and Restaurants in Lisbon
Experience Lisbon as a local by enjoying typical Portuguese dishes at the best restaurants throughout the city at a price you can afford. Take away the overwhelming pressure of deciding where to eat in a city as dynamic and riveting as Lisbon by allowing this guide to suggest local restaurants with...