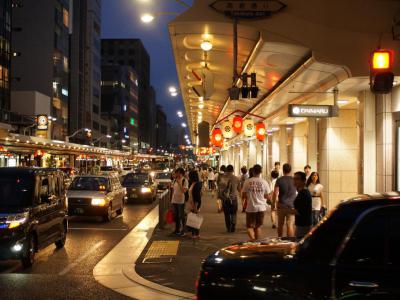 Shijo-dori Avenue, Kyoto
Shijo-dori or the "Fourth Avenue of Heian-kyō" (one of the several former names of Kyoto, the ancient capital of Japan), is a fabulous street that runs East to West through the heart of the city. This street has everything, from high-end shopping to restaurants to stores selling traditional Japanese handcrafted products, and as such is fit to satisfy every taste.

Shijo-dori is very long and very clean, with lots of sidewalks, lamps, signage, and even a small Yasaka Shrine at its eastern end, marking the entry point to Gion district. Originally quite narrow, it was expanded in 2015, making it much easier to walk through. Covered by awnings on both sides, the street is just a delight to stroll from one end to the other, even if not shopping, no matter if it's raining or scorching hot, attesting to which is a regular crowd of international and domestic tourists.

The busiest part of Shijo-dori is roughly between Karasuma-dori on the West (business and banking district) and Higashioji-dori on the East (gateway to the Yasaka Shrine). The bulk of shops is concentrated between Kawaramachi-dori and Karasuma-dori and includes some well-established department stores like Daimaru and Takashimaya, boutique shopping buildings Fujii Daimaru and Marui, along with everything else, from fashion to Kyoto-style clothing (Kimono) to small drug stores and retail shops selling teas, confections and dolls, to cafes to fast food and Japanese cuisine outlets, to everything else imaginable.

North of Kawaramachi Station there is a Book Off Plus which sells books, CDs, DVDs, as well as used clothing, plus carries a huge collection of Japanese anime figures, gundam, model trains, etc. The most interesting and less hectic part of Shijo Street is across the Kamo River and starting from the Shijo Bridge east to the Yasaka Shrine, featuring an array of shops selling traditional goods and modern products with a Japanese twist.

Tip:
Overall, this area seems more like an adult's paradise for couples and groups of friends, and less so for the kids to run around. An interesting look at modern-day Kyoto.
Make sure to look past the arcade at the side streets with narrow buildings that have been around since the 1960s. From Kawaramachi-dori to the east, the experience becomes more and more Japanese with food stalls and souvenir shops.
Walking Tours in Kyoto, Japan
Useful Travel Guides for Planning Your Trip
--- 18 Japanese Products To Bring Home from Kyoto
The old capital of Japan, the city of Kyoto has once again been the talk of the world lately, thanks to the bestselling "Memoirs of a Geisha" book and the namesake Hollywood blockbuster movie. Renowned for its impeccable craftsmanship, Japan has so much to amaze a foreign eye with. Many of...