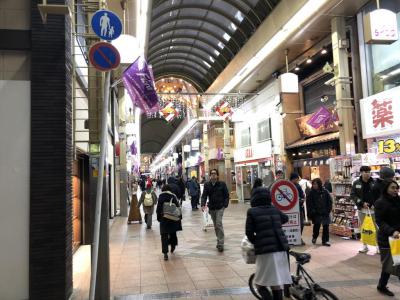 Shinkyogoku Shopping Street, Kyoto
Right in the middle of downtown Kyoto, running parallel to Teramachi street to the east, from Sanjo-dori to Shijo-dori, is another popular covered pedestrian arcade – Shinkyogoku. Together these two streets form the heart of the city's main shopping district. Shinkyogoku offers a great deal of things to choose from befitting every wallet or purse, whether you look for souvenirs and kitsch or seek to scope out a massive food court.

Compared to Teramachi, this shopping venue is for the young and the restless, and is lined with specialty stores filled to the brim with tacky souvenirs of almost every description, shoes, umbrellas, T-shirts, yukata (casual summer kimono), confectionery, character goods, and more. The things on sale here are cheaper and more to the liking of teens, therefore this place is usually packed with high-school and university students, as well as kids out on school excursions. Those who like to do their shopping whilst chomping down on some snacks, will find themselves at home in Shinkyogoku as there are many restaurants and cafes sprung up here lately accommodating the increasing demand for street food.

Other than fresh fare, Shinkyogoku is also a hub for fast fashion fixes. Trends-in-the-making can be spotted here in the tall windows of several one-of-a-kind stores featuring local labels and modish boutiques.

What to buy here:
Geta – traditional Japanese footwear made of one piece of solid wood with two wooden blocks underneath and a fabric thong. Resembling a mix of clogs and flip-flops, Geta were the most used type of footwear in Japan before shoes came into fashion. Nowadays, it is worn with traditional Japanese clothing, such as kimono or yukata, as well as with Western clothing during summer. There are several styles of Geta differing in shape and design.

Why You Should Visit:
A good variety of shops with some locally made items that are perfect for souvenirs. Between arcades, outdoor concert spaces, mega department stores and small shops, enchanting cafes and restaurants, and a movie complex – this place really does have something for everyone.
If you need a shirt that reads "Ichi-ban" (Number One), Shinkyogoku is the place to go.
Great spot for wandering and there is actually a temple on this street too that you can spend a few minutes checking out.

Tip:
The street is covered so it's a perfect hideaway when it rains; ideal for food, coffee, and nightlife. The local crepes make for a great snack in the afternoon. Very delicious!
Some online sources say it is open till 9 or 10 pm, but in reality it starts closing around 7 or 8 pm. Nothing really stays open too late around this area in Kyoto.
Make sure to walk up and down the different blocks to find something new around each bend.
Shinkyogoku Shopping Street on Map
Walking Tours in Kyoto, Japan
Useful Travel Guides for Planning Your Trip
--- 18 Japanese Products To Bring Home from Kyoto
The old capital of Japan, the city of Kyoto has once again been the talk of the world lately, thanks to the bestselling "Memoirs of a Geisha" book and the namesake Hollywood blockbuster movie. Renowned for its impeccable craftsmanship, Japan has so much to amaze a foreign eye with. Many of...