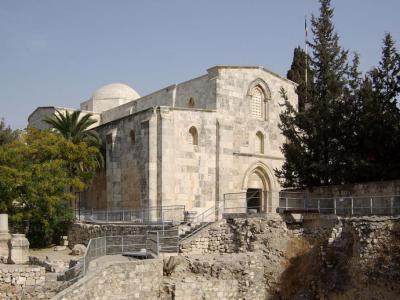 St. Anne's Church, Jerusalem
(must see)
St. Anne's Church is found next to the Bethesda Pool by the Lion's Gate in Jerusalem, almost at the outset of the Via Dolorosa and, as with most structures in the city, the history of this location is fascinating. This church is a great example of a 12th-century Crusader house of worship. Although throughout centuries the building has been used in many different ways, most of its original design, rather severe in appearance, has been preserved, in large part, due to the 19th century restoration.

St. Anne's was built in 1131-1133 over the presumed site where grandmother of Jesus, Anne, gave birth to his mother, Mary. As such, the church replaced the destroyed Byzantine temple that stood on this site previously. One of the interesting things about it is the asymmetry. When visiting, be sure to check out the asymmetrical style, count the number of steps on the one side and then the other.

Another peculiarity is the incredible acoustics of the building. Designed to accommodate Gregorian chants, the church is open to singers, but only those with religious repertoire. Music from any religion is welcome. The reverberations are simply phenomenal, particularly for the tenor or soprano solo voices.

Why You Should Visit:
Landmark location – at the start of the Via Dolorosa, above street level.
Attractive architecture – rebuilt by the Crusaders in the 12th century, the church is also historically interesting.
Extremely beautiful church garden.
Excavations of the Pools of Bethesda may induce those archaeologically-minded to stick around a bit longer.

Tip:
If you intend to visit, come early in the morning so as to enjoy this place while it's not so crowded.
If you come here to sing alone or with a group, take advantage of the acoustics and hold the last note to let the room sustain it for you. The reverb is measured in seconds.
Walking Tours in Jerusalem, Israel
Useful Travel Guides for Planning Your Trip
--- 16 Uniquely Israel Things to Buy in Jerusalem
Modern day Jerusalem is a mosaic of neighborhoods, reflecting different historical periods, cultures, and religions. The influx of repatriates in recent years has made the cultural and artisanal scene of the city even more colourful and diverse. To find your way through Jerusalem's intricate...