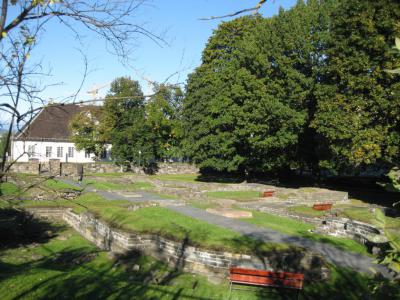 St. Hallvard's Cathedral Ruins, Oslo
Saint Hallvard's Cathedral, also known as Hallvardskatedralen, was once the revered cathedral of Oslo. However, by the 17th century, it had fallen into disrepair and now stands as a collection of ruins. This historical site is situated within the confines of Old Town Oslo.

Originating in the early 12th century, the cathedral bore witness to Oslo's transformation. Following a catastrophic fire in 1624, Oslo was forsaken, leading to the establishment of a new city, Christiania, approximately a kilometer westward. Saint Hallvard's Cathedral retained its role as a church until around 1655. Over a span of about five centuries, it served as the religious hub and episcopal seat for eastern Norway. The cathedral played host to coronations, royal weddings, and other regal ceremonies, solidifying its place as a pinnacle of significance in Scandinavia and a sought-after pilgrimage site.

The southern vicinity of the cathedral houses Saint Hallvard cemetery, an esteemed burial ground from approximately 1130 to 1639, reserved for bishops, notable individuals, and even Norwegian monarchs from Oslo and the eastern reaches of the country.

The initial exploration of the cathedral's remains occurred in 1865, undertaken by Norwegian archaeologist Nicolay Nicolaysen. Regrettably, sections of the ruins were lost during the construction of the Ostfold Rail Line in the early 1920s. Nevertheless, in 1932, the cathedral remained a focal point upon the inauguration of Memorial Park in Old Town (Minneparken i Gamlebyen). Nestled adjacent to the cathedral's remnants are the vestiges of the medieval parish church, Holy Cross Church (Korskirken).
St. Hallvard's Cathedral Ruins on Map
Walking Tours in Oslo, Norway
Useful Travel Guides for Planning Your Trip
--- Traveler's Choice: 15 Norwegian Gifts from Oslo
The Norwegians are strict about gift making and believe that each gift must be equaled with a return one. For this reason, public holidays and birthdays are a very serious business in Norway, with everyone making and receiving gifts. In the spirit of this tradition, you might want to treat your dear...