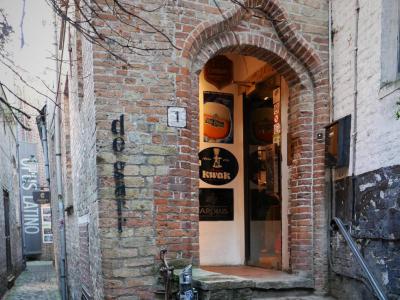 Staminee de Garre Bar, Brugge
Perhaps one of the coziest and best known bars in Brugge, Staminee de Garre is well hidden in a narrow alley. In fact so narrow that if you are a big person, chances are that you may have to struggle a bit to fit down this alley to get in. Also, do keep your eyes really wide open so as not to miss the entrance.

But rest assured that the effort is all well worth it!

This wonderful three-story bar is the only place in town where you can buy their own, locally brewed De Garre Tripel. This monster of a beer – at 13%, with a truly iconic glass which they also sell – is the real draw of the house! In addition to it, there is an extensive range of Belgium's other finest beers, probably about 150 bottle offerings(!!!), organized by style. Usually, each beer order comes with a free snack of cheese. Just find yourself a quiet little table and savour it.

This watering hole is quite tiny, about 300 square feet per floor – enough to accommodate about 20 or so visitors. But the size makes it all intimate and the vibe is friendly with a good mix of patrons and languages. In this bar you can hear the authentic Brugge dialect spoken whilst enjoying the company of amiable locals.

The interior is very traditional and rustic, with lots of wood and stone – old but warm. Another – cool – thing about this establishment is that you can look down from the second floor to the ground floor and enjoy a great view.
Staminee de Garre Bar on Map
Walking Tours in Brugge, Belgium