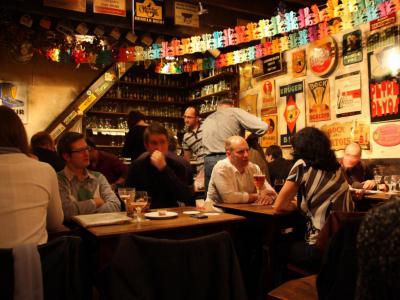 't Brugs Beertje Beer House, Brugge
With just about every known Belgian beer presented at 't Brugs Beertje, there is always a wide cross section of visitors rubbing shoulders at this brasserie.

First opened in 1983, in a building dating from 1632, this is one of the best beer cafés in the country, specialized in Belgian beers of "high appetite". It started off with just about 120 beers on the menu, but today has at least 300 brews available, including five on tap ("van 't vat" in Flemish).

Pleasant and atmospheric, 't Brugs Beertje is more than just a café but rather a worthy tasting room where the real beer spirit is enjoyed and beerological enthusiasm is conveyed among the many national and international guests under one roof.

The name of the place translates as "Bruges's Little Bear" and refers to a legend of a large "white" bear that, in the Middle Ages, made the surroundings of Brugge unsafe and had to be killed by Boudewijn I (founder of the County of Flanders). Since then, the bear has been the city symbol, and a statue of an upright bear with a shield adorns the establishment's façade.

The interior, decorated with all kinds of beer articles, evokes old-time memories and exudes a very cozy brown pub atmosphere, conducive to a good conversation. There is also a small shop where you can buy all kinds of beer souvenirs (T-shirts, posters, etc.) and some Brugge beer guides. A plush bear and a comic strip about the history of the one and only Brugse Beer are also included.

Food is available and includes a cheese board with five types of cheeses, plus a number of pâtés. The service is always friendly and helpful, ready to offer suggestions for anyone who may need help with their beer choice.
't Brugs Beertje Beer House on Map
Walking Tours in Brugge, Belgium