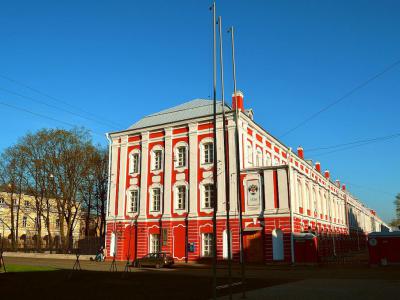 Twelve Collegia, St. Petersburg
The Twelve Collegia, or Twelve Colleges, is the largest edifice from the Petrine era remaining in Saint Petersburg. It was designed by Domenico Trezzini and Theodor Schwertfeger, and was built from 1722 to 1744.

The enormous (400–440 meters long) three story-, red-brick complex comprises 12 buildings which were originally separate, but were then merged into one.

The Twelve Collegia was commissioned by Peter the Great, who wanted a place for the Russian government, at the time divided into 12 branches, including: The Senate, The Synod and nine colleges – of Foreign Affairs, Revenue Collection, Justice, Expenditure, Financial Control, War, Admiralty, Commerce, Mining and Manufacturing, and the additional tenth college/ministry of Trade. These colleges were replaced by ministries in 1802 under the rule of Alexander I.

Presently, the complex houses the headquarters of St. Petersburg university founded in 1819 (succeeding the Academy of St. Petersburg established in 1724). The university's noteworthy alumni include Nikolai Chernyshevsky, Ivan Turgenev, Alexander Blok, Pyotr Stolypin, Alexander Kerensky, and Vladimir Lenin. The institution features one of the longest hallways in the world.

Saint Petersburg State University has two campuses, 22 specialized faculties, and 13 research facilities. It boasts over 20,000 students, eight Nobel Prize winners, and a four million volume library.
Sight description based on Wikipedia.
Walking Tours in St. Petersburg, Russia
Useful Travel Guides for Planning Your Trip
--- 16 Unique Russian Things to Seek in St. Petersburg
The "cradle of two revolutions", St. Petersburg bears cultural and historic significance for Russia that is hard to overestimate. Perhaps, nearly every stone in the downtown part of the city breathes history and can qualify as a memorable souvenir, although picking up them for such purpose...