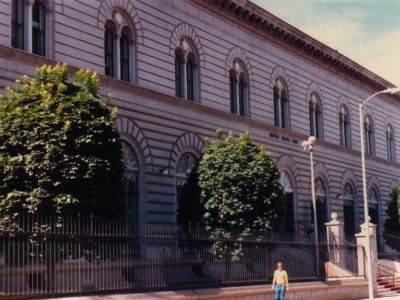 US Mint Denver Facility, Denver
Touring Denver is not complete without a tour of the US Mint. Located near Civic Center Park, the US Mint Denver Facility is interesting both inside and out.

The institution itself is one of the city's oldest. Gold was first discovered in the state in 1858. Only four years later a US Mint was established in Denver. The facility opened the following year as an assay office, moving to its current location in 1904. It was added to the National Register of Historic Places in 1972.

Visitors ages seven and older are welcome on the free tour when the US Mint is open. Advance tickets are not available and they are only offered on a first-come, first-served basis. Tourists can learn about the minting process while also admiring the interior of the facility.

Even those who do not enter the US Mint can enjoy walking around the periphery of the building. It was designed by James Knox Taylor in 19th and 20th Century Revival Architectural styles. The building has been featured in television and on movies, such as the Sylvester Stallone film, "Cliffhanger." It is interesting to note that the US Mint Denver Facility is the single largest producer of coins in the world.
US Mint Denver Facility on Map
Walking Tours in Denver, Colorado