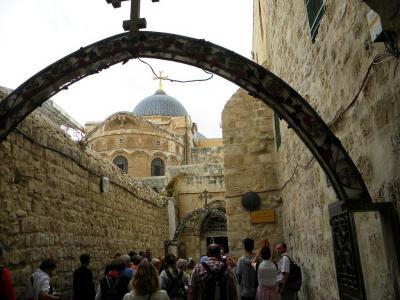 Via Dolorosa, Jerusalem
(must see)
Via Dolorosa is the Latin for the "Way of Grief" or the "Way of Suffering". It is interesting that while most signs in Jerusalem are in Hebrew, English and Arabic, this road is the only one known by its Latin name. The road is popular among Christian pilgrims who believe it traces the steps of Jesus carrying a cross en route to his crucifixion.

14 Stations mark the path along this route, including five of them within the Church of the Holy Sepulcher. Although anyone can walk the Via Dolorosa at any time, every Friday around 3pm, a group is lead by the Franciscan monks along the path, offering the best way to experience the walk. This area can be very crowded and the signs a bit hard to find. At spots, the walk backtracks a bit and station IX can be particularly difficult to locate. Some may find the noisy streets a bit distracting while searching for a quiet spot to pray or contemplate the area's religious significance.

There have been several different versions of the path throughout history; the current one was set in the 1700s and follows the route charted by the early Byzantine Christians. The stations are marked with the round signs, showing Roman numerals, marking the Stations of the Cross. Different religious groups start the walk at different sites.

Usually, the journey begins at the site where Jesus was tried and convicted, in the Muslim part of Old Jerusalem – near Lion's gate, although some may opt for Herod's Palace at the Jaffa Gate. The route ends at the Church of the Holy Sepulcher and covers approximately 500 meters.

There is no entrance fee to the Via Dolorosa. There are many churches along the way to visit and several gift shops offering religious items. Re-enactments are frequently held along the Via Dolorosa, especially around the Holy Week.

Tips:
The cobbled stone path can be very slippery. If it rains, some of the road sections must be walked with extreme caution. Certain parts can be rather steep, with many stairs and inclines.
Unless you wake up at 5am, don't expect much time for a quiet contemplation here, as there's too much hustle & bustle around and you will need to walk quickly or be run over by a motorcycle, human, or a goat!
Best come with a tour guide or bring a very comprehensive map/book and have a camera ready! Besides the spiritual significance of the area, the artwork and architecture are quite impressive too.
Walking Tours in Jerusalem, Israel
Useful Travel Guides for Planning Your Trip
--- 16 Uniquely Israel Things to Buy in Jerusalem
Modern day Jerusalem is a mosaic of neighborhoods, reflecting different historical periods, cultures, and religions. The influx of repatriates in recent years has made the cultural and artisanal scene of the city even more colourful and diverse. To find your way through Jerusalem's intricate...