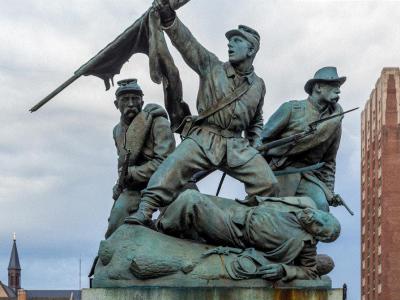 Victorious Charge Memorial, Milwaukee
The Victorious Charge is a public artwork by American artist John S. Conway located on the Court of Honor on West Wisconsin Avenue in downtown Milwaukee. The 1898 bronze sculpture is 9'10" high and sits on a 20' square granite pedestal.

Conway's sculpture is the most important nineteenth century Civil War monument in Wisconsin. Four Union soldiers cast in bronze are caught in action, moving forward to victory. One of the soldiers has fallen and supports himself on his left arm, while grasping a piece of the flag staff in his right hand. A young private holds the flag high while stepping over the dying soldier. An officer with a pistol in one hand and a drawn sword in the other continues forward, while another private leans forward holding a bayonet.

Before The Victorious Charge, the standard for Civil War monuments was an idealized portrait of a soldier or an equestrian portrait of an officer. Conway revolutionized the Civil War memorial by depicting a realistic looking group of soldiers in action. His sculpture exudes energy and movement, faithfully capturing the intensity and horrors of battle.

The dedication of The Victorious Charge took place on June 28, 1898, coinciding with a four-day carnival celebrating the Golden Jubilee of Wisconsin's entry into the Union. Tens of thousands of visitors came to Milwaukee for the events. A band played "Marching Through Georgia" as Lydia Ely unveiled the sculpture, and Mayor David S. Rose accepted the monument on behalf of the city.
Sight description based on Wikipedia.
Victorious Charge Memorial on Map
Walking Tours in Milwaukee, Wisconsin