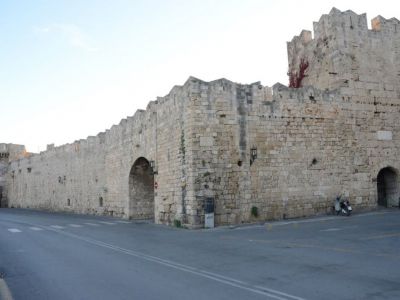 Arnaldo Gate, Rhodes
Further south of the Tarsanas Gate is another gate, called Arnaldo. The Arnaldo Gate is a small entrance that allows access to the hospital of Saint John, now home to The Archaeological Museum, and is part of the Marine Gate complex, constructed under Grand Master d' Aubusson. In particular, the gate provides exit from the Old Town to the Commercial Harbor.

Up until the second half of the 14th century, this passage is believed to have connected the main dock of the medieval port to the urban quarter of the City of Rhodes. According to a relevant written document from 1391, this particular gate was traditionally used by knightly novices (Filii Arnaldi) to enter the city. In later references, the gate is also referred to as the "Middle Gate" or the "Castellania Gate".

The Arnaldo Gate features Provence style, which is similar to that of the Agia Aikaterini (St. Catherine) Gate, aka "the Gate of the Mole". This is a small wonder, however, given that all the Grand Masters in office during the construction of such gates (from 1309 to 1373) originated from the Provence region of France. One of the two square towers designed to guard the gate, the one on the east side, crumbled after the 1481 earthquake. The interior of its western counterpart was later remodeled into a chapel, named Agios Georgios (St. George). Outside it bears the coats of arms of Grand Master Juan Fernández de Heredia (1377-1396) and his second-in-command, Pierre de Culant.

On the southern flank of the gate there are also the coats of arms of the Grand Masters Hélion de Villeneuve (1319-1346) and Giovanni Battista Orsini (1467-1476). The latter, in particular, was responsible for widening the Arnaldo Gate in the 15th century.
Walking Tours in Rhodes, Greece