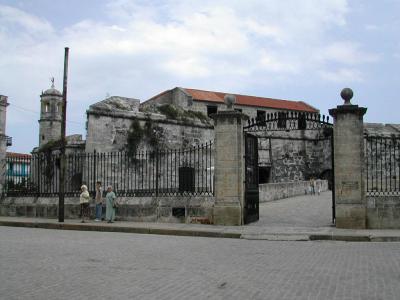 Castle of the Royal Force, Havana
The Castle of the Royal Force was completed in 1577. This limestone fort was intended to guard the bay, but it is a little too far inland for effective defense purposes. It's considered to be the oldest stone fort in the Americas.

In 1634, a watchtower with a sculpted weathervane was added. The weathervane is in the form of a woman. This figure, La Giraldilla, now stands in the fort's museum, and a replica stands in the original location, exposed to the elements. La Giraldilla is an important symbol of Havana and is featured in the Havana Club's logo. The inspiration for the statue is said to have come from Isabel de Bobadilla, Havana's only female governor. She assumed control when her husband, Governor Hernando de Soto, took an expedition to Florida in 1539.

The Castillo de la Real Fuerza now houses a maritime museum. Exhibits cover Cuba's maritime history from pre-Columbus days to today. Don't miss the model of the Santisima Trinidad, which was the largest ship in the world in the 18th century. Visitors will also find maritime artifacts, Colonial silver and gold, and historic navigation tools. Visitors will have an excellent view of the harbor and old Havana from the museum's second level.

Why You Should Visit:
Reasonable price for entry. Impressive canons, serious moat, and the views for the top of the fortress are nothing short of amazing – you can see the fortresses on the other side of Havana, and also get a nice view of the old city. If you're interested in how early ships were built, this is a great place. Staff is very knowledgeable and eager to share their knowledge (as long as you engage them – otherwise, they might as well just stand/sit around an act like guards).

Opening Hours:
Daily: 9:30am-5pm
Castle of the Royal Force on Map
Walking Tours in Havana, Cuba
Useful Travel Guides for Planning Your Trip
--- 18 Uniquely Cuban Things to Buy in Havana
Rum, cigars and revolution have been, perhaps, at least until recently, the three most popular exports from Cuba. Luckily, with the embargo lifted (or soon to be lifted), those traveling to the U.S. might soon be able to pick up some of these (with the exception of revolution, perhaps) on their way... Cuban Sweets and Pastries
On the tropical island where sugar cane is one of the main commodities along with the rum made of the very same sugar, and where the enormous abundance of tropical fruits make up a great deal of the local diet, it is only natural to expect the richness of dessert cuisine. Pair it with the strong...