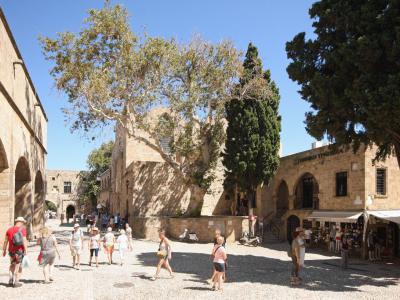 Church of Our Lady of the Castle, Rhodes
The Church of Our Lady of the Castle is a Byzantine gem and one of Rhodes most popular attractions. Built sometime in the 11th century, it was used as the Orthodox Cathedral of Rhodes under Byzantine rule and the Latin Cathedral under the Franks. In addition to the Byzantine features, there are also some Gothic elements that were added at a later date.

During Byzantine times, the church was a single domed and one-aisled structure. It was later expanded, under the tutelage of the Knights of Hospitaller, and the noteworthy bell tower was added. In the 14th century, a monastery was added to the church grounds.

Within the grounds of the church there are also the remains of a Doric Temple of Athena Polias – this fascinating site features intricate carvings and should not be missed. The interior of the church has many frescoes and paintings that are hundreds of years old and which pertain to different eras of its patronage.

When the Ottomans took over Rhodes from the Knights, the church was converted into a mosque, but fortunately, the original design of the construction was maintained. During Ottoman rule, it was called the Enterum Mosque and the bell tower was converted into a minaret.
Church of Our Lady of the Castle on Map
Walking Tours in Rhodes, Greece