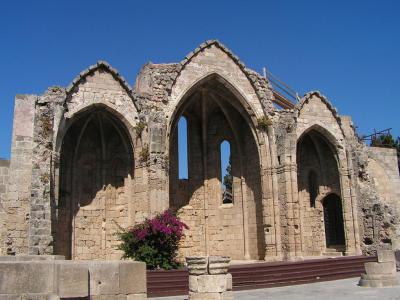 Church of the Virgin of the Burgh, Rhodes
The Church of the Virgin of the Burgh lies at the eastern edge of the Rhodes Old City, in the Jewish Quarter. The 14th century construction is one of the oldest remaining buildings from the era of the Knights of Hospitaller during medieval times.

Its grand, original Gothic style remains impressive, even though it sadly suffered damage from bombing during World War II. Only three of the church's apses have survived unharmed and, despite the heavy damage, it retains a strong spiritual air and you can often find painters and artists gathered there soaking up the inspiration in the air. It was considered to be the most important Catholic Church on Rhodes, but, following the extensive damage, is no longer used.

Located within the Old City, the church forms part of the UNESCO World Heritage Site. It was built in 1300 and used by the Knights of St. John Hospitaller. Until its partial destruction, it was the largest church within the Old City. There are no formal opening times or admission to the church, so you are free to stroll among the ruins.
Church of the Virgin of the Burgh on Map
Walking Tours in Rhodes, Greece