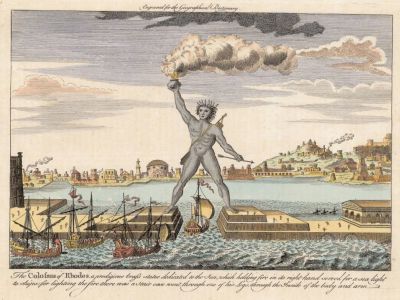 Colossus of Rhodes, Rhodes
The Colossus of Rhodes was a statue that represented the Greek sun-god Helios. It was known as one of the Seven Wonders of the Ancient World and was erected by Chares of Lindos in 280 BC. It was constructed to memorialize Rhodes' successful defeat of Demetrius Poliorcetes, who attacked Rhodes for a year.

Literary references, including Shakespeare's Julius Caesar, describe the statue as straddling the harbor entrance. Ships would enter by sailing between the statue's legs. However, modern analysis proves that this theory was impossible. It was impossible to build the statue over the entrance with the available technology. If the statue had straddled the entrance, it would have permanently blocked the entrance when it fell. We know that the statue fell onto the land.

It is thought that the original statue was 33 meters (108 feet) high. Unfortunately, it was damaged during a 226 BC earthquake. Ptolemy III offered to finance reconstruction; however, the oracle of Delphi warned against reconstruction.

The remains of the statue were still impressive, and many traveled to Rhodes to view it. Unfortunately, the statue was totally destroyed in 653 when an Arab force captured Rhodes. Stories recount that the statue was melted down, and it took 900 camels to carry the load away.

The location of the statue is disputed. However, many believe that it stood where the current columns with the bronze stag and deer stand.
Colossus of Rhodes on Map
Walking Tours in Rhodes, Greece