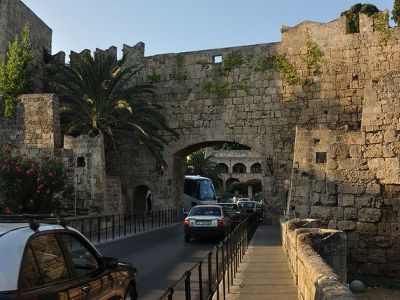 Eleftherias (Liberty) Gate, Rhodes
Sitting right in front of Symi Square, otherwise known as Place de l'Arsenal, is one of the main entrances into the medieval city of Rhodes – Eleftherias (Liberty) Gate. The original gate on this site dates back to the time of Grand Master Heredia (1377-1396) and used to link the northern flank of the seaside wall to the Mandraki Harbour. Back then it was also colloquially referred to as the Shipyard Gate or Shipyard Vaults, being a short distance from the local arsenal and the knightly shipyards that formed part of the domain of the Langue (Tongue) of France.

Two square towers that once flanked the gate on both sides were razed by the Ottomans in 1910. Historic records indicate that one of them appears on the coat of arms of Grand Master d'Aubusson (1476-1503). The structure shows a pronounced influence of Byzantine architecture, and its dimensions (9.9 meters wide, 5.2 meters high) support the projected use of the passage – letting through voluminous vessels or appurtenances thereof en route to the shipyard. Under the Ottoman rule, this gate may have also operated as a bridge over the water to a basin designated in Turkish as "Eğri Liman" ("Concealed Harbour").

The ramparts currently seen on top of the wall were erected during the Italian rule (1912-1943). The Italians, who deserve much credit for historical reconstruction in Rhodes, created this gate in 1924 after they had taken possession of the island during WWI. Portraying themselves as liberators from the Ottoman rule, they called it Liberty Gate. Although modern as such, the gate was built in a strict accordance with medieval architectural practice.
Eleftherias (Liberty) Gate on Map
Walking Tours in Rhodes, Greece