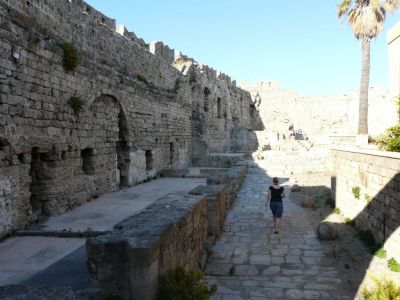 Fortifications of Rhodes, Rhodes
(must see)
The medieval city is surrounded by a 4 kilometer fortified wall that was built to protect Rhodes from attack by foreign empires and corsairs who sailed the water of the Mediterranean and Aegean during the Middle Ages. The old city was fortified under the Knights Hospitaller who occupied Rhodes between 1309 and 1522. The massive city walls were long considered to be impenetrable, but they finally yielded to the Ottoman Turks at the beginning of the 16th century.

Along the wall, there are several bastions and towers that can be visited. Each of them includes fascinating features and brings Rhodes' ancient military history to life for the visitor. You are able to enter the Old City through one of the eleven gatehouses along the walls. There are cat walks and ramparts along the top of the city walls that were used by sentries keeping guard over the city and for defense during attack. There is an entry fee, but you can climb up into several of the towers and walk along the walls, all the while imagining you are a medieval knight.

Tickets can be obtained from the Palace of the Grand Master and the entrance is adjacent to that building.
Fortifications of Rhodes on Map
Walking Tours in Rhodes, Greece