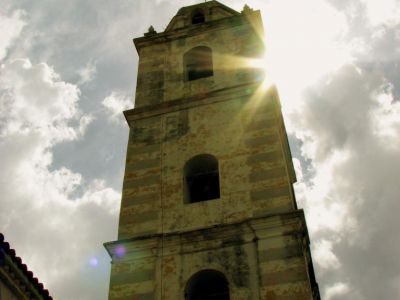 Iglesia del Espíritu Santo (Church of the Holy Spirit), Havana
Built in 1635 by a fraternity of Afro-Cuban ex-slaves, the Iglesia del Espíritu Santo is Havana's earliest Christian church, and also the only church in Havana to give political asylum. It is also well-known for its possession of some exceptional images on linen, plus a crypt with catacombs. The bell tower on the left side is among the tallest buildings in the old part of the city, though it is said that the main interest lies essentially in the simplicity of the coral stone construction and the lack of lavish decoration.

Inside there are original paintings by the Cuban painter José Nicolás de la Escalera ("Cuba's first painter") and Aristides Fernandez (20th Century), among them the large oil painting titled The Burial of Christ.

The church was rebuilt and expanded in 1648 and given the rank of a parish. During the colonial era it had exceptional importance, since by a Papal Bull of 1772 and a Royal Certificate of 1773, of Charles III of Spain, it was declared "Única Iglesia inmune en esta ciudad, construida en 1855." ("the only immune church in this city, built-in 1855."), which meant that any persecuted individual could find Amparo (sanctuary) in it against the action of the authorities or of justice. A metal plaque at the foot of the bell tower attests to this fact.

Other elements of great importance are the funerary crypts that were discovered in 1953. The crypt is from times before the Colon Cemetery (1876) in El Vedado was built. The crypt is entered from the left of the altar and contains several catacombs.

Many illustrious people of Havana were baptized in this church, among them the educator José de la Luz y Caballero. Bishop Gerónimo Valdés, a founder of La Casa de Beneficencia y Maternidad de La Habana, was buried in the Church; the master sepulcher of Bishop Valdés was found in 1936.
Iglesia del Espíritu Santo (Church of the Holy Spirit) on Map
Walking Tours in Havana, Cuba
Useful Travel Guides for Planning Your Trip
--- 18 Uniquely Cuban Things to Buy in Havana
Rum, cigars and revolution have been, perhaps, at least until recently, the three most popular exports from Cuba. Luckily, with the embargo lifted (or soon to be lifted), those traveling to the U.S. might soon be able to pick up some of these (with the exception of revolution, perhaps) on their way... Cuban Sweets and Pastries
On the tropical island where sugar cane is one of the main commodities along with the rum made of the very same sugar, and where the enormous abundance of tropical fruits make up a great deal of the local diet, it is only natural to expect the richness of dessert cuisine. Pair it with the strong...