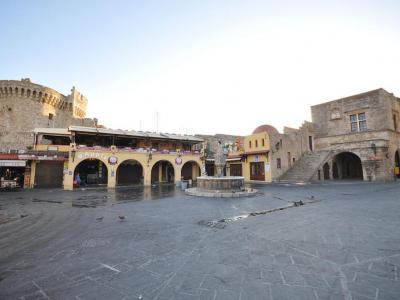 Ippokratous Square, Rhodes
Ippokratous Square lies in the medieval walled city of Rhodes. In the center of the square stands an ornamental fountain, which, along with a grand staircase from the south west section, is the only remaining evidence of the Castellania, an important building constructed by the Knights Hospitaller in the 14th century. When you enter the Old City by the Marine Gate, you will find yourself in Ippokratous Square, which is a great place to start your exploration of this UNESCO World Heritage Site.

The square is very popular with locals and tourists alike, who enjoy coffee, dining or drinks from one of the many alfresco cafes and bars that are scattered around its periphery. You may want to soak up the atmosphere at one of the cafes before explore the old city.

There are also a number of cultural and historic sites on Ippokratous Square, including the Castellania Library, which is a treasure trove of ancient books and documents. The library is housed in Epavlis Mansion and features a music department and exhibition space along with the library tomes. Ippokratous Square is also where Sokratous Street, one of the most popular commercial streets on the island, begins.
Ippokratous Square on Map
Walking Tours in Rhodes, Greece