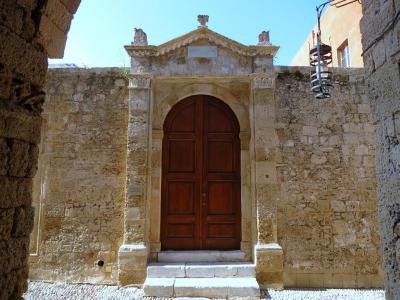 Jewish Museum of Rhodes, Rhodes
Rhodes was host to a vibrant Jewish community on Rhodes, which was known as La Juderia. Jews had settled in Rhodes since at least the second century BC when they were mentioned in the Book of Maccabees. Ancient alleys in the Juderia quarter bear Jewish symbols. In the 12th century, Rabbi Benjamin of Tudela found 400-500 Jews living in Rhodes.

The museum is housed in the Kahal Shalom Synagogue. The Synagogue was founded in 1577 and is the oldest Jewish synagogue in Greece. A significant number of Jews fled the Spanish Inquisition and found refuge in Rhodes. By the 1930s, about 4,000 Jews were living in Rhodes.

But the holocaust ended this vibrant community. The museum memorializes the 2,500 Jews from Rhodes and Kos who were killed in Nazi concentration and labor camps.

Museum exhibits include a collection of photographs that provide insight into Jewish life on Rhodes. Artifacts include a 16th century Torah scroll and historical documents, traditional costumes, and textiles.

Tips

You can download an audio tour of the museum on your smartphone.
Jewish Museum of Rhodes on Map
Walking Tours in Rhodes, Greece