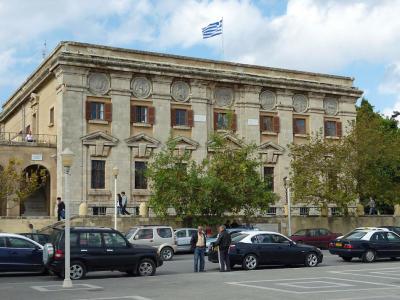 Main Post Office, Rhodes
The Main Post Office in Rhodes is a beautiful building located in Liberty Square, known locally as Plateia Eleftherias, in the modern city. It may not be one of the oldest constructions on the island, but its impressive Renaissance Eclecticism architectural style is nonetheless beautiful and worthwhile visiting. The Main Post Office was built during the first years of the Italian reign over the island, between 1912 and 1943. The post office was designed by Italian architect Florestano di Fausto. It has always maintained its function as the principal post office on the island, initially, under the Italian and, more recently, under the Greek postal service.

The façade is highly stylized and features impressive carvings and engravings into the local poros stone. Above the grand entrance there is an emblem of the god of sun and there are entrances to either side. The Main Post Office, like many of the buildings constructed during Italian sovereignty, were deliberately opulent in order to emphasize the superiority of the Italian reign, as well as to attract tourists to the new part of the city of Rhodes. The Main Post Office is open daily between 8:30am and 2:30pm.
Walking Tours in Rhodes, Greece