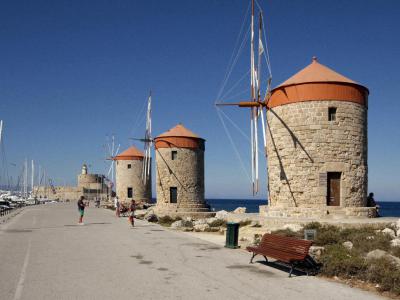 Mandraki Harbor and Windmills, Rhodes
(must see)
Mandraki Harbor has been a port since ancient times. The Knights of Rhodes moored their fleet in this harbor. Today, the harbor is home to modern yachts.

Two columns stand at the entrance. One column features a bronze stag, and one column features a bronze doe; the stag and doe are emblems of Rhodes. The columns and statues stand where the legendary Colossus of Rhodes stood.

The harbor has a 400 meter (1,312 foot) long breakwater jetty. Fort St. Nicholas stands at the end of the jetty and protected Rhodes from initial assaults.

Visitors will find three iconic medieval windmills on Mandraki Harbor's jetty. These ancient windmills used to grind grains brought from vessels that moored in the harbor. There used to be more windmills, possibly 13 or 14. Now only three remain, and they have been extensively renovated and offer a popular photo opportunity.

Tips

The windmills are silhouetted at dawn and provide spectacular sunrise photos.
Mandraki Harbor and Windmills on Map
Walking Tours in Rhodes, Greece