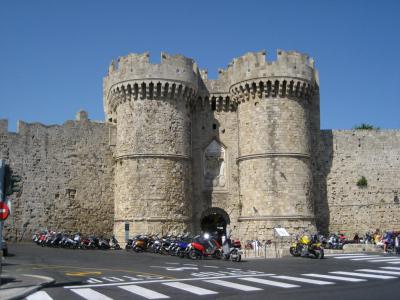 Marine Gate, Rhodes
Marine Gate is a medieval gate constructed in 1478. It is the main entrance from the harbor to the city. If you are arriving by sea, you will enter Rhodes through this imposing gate. Therefore, it is also sometimes referred to as the Sea Gate.

Grand Master Pierre d'Aubusson built the gate to imitate the Gate to Villeneuve-lès-Avignon in France, which is 200 years older.

The front of the gate features several reliefs. One relief shows the Virgin holding the Christ. Additional reliefs show St. John the Baptist, St. Peter, the coats of arms of France, the Order of St. John, and the blazon of the House of d'Aubusson.

On the interior side of the gate, visitors will see more relief work. An effigy shows an Angel with the coats of arms of the Order of St. John and another blazon of the House of d'Aubusson.

The towers have a series of devices that poured boiling oil on attackers. The gate is so close to the harbor that it would be impossible for an army of any size to gather below the gate and attack it.

This iconic and imposing landmark sets the scene for the rest of Rhodes. It was restored in 1951 when damage to the north tower from World War II bombings was repaired.
Walking Tours in Rhodes, Greece