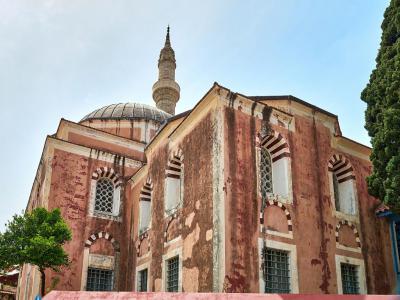 Mosque of Suleiman, Rhodes
(must see)
The Mosque of Suleiman in Rhodes is a large pink-colored mosque that was built by the sultan in 1522 to celebrate the victory of the Turkish over the Knights Hospitaller. The Knights had established themselves in Rhodes in 1307 and their possession of the island was confirmed by Pope Clement V in 1309.

The newly crowned Ottoman sultan Suleilman, however, led naval attacks on Rhodes and the vastly outnumbered Knights fled, taking only what they could carry. As many conquerors had done, this huge religious site was built over the remains of the destroyed Christian Church of the Apostles and it is the largest mosque in Rhodes.

The building was re-constructed in 1808, following a damage, and its striking minaret sadly had to be removed in 1989, as it was deemed unsafe. However, to this day the rose colored stone exterior and classic Ottoman style is striking and adds significantly to the ambiance of the Old City.

The Mosque of Suleiman remains one of the major landmarks of the city of Rhodes. Although it is currently closed to visitors pending restoration, you can appreciate its design from the street. The mosque is conveniently located right across from the old Turkish Bazaar.
Mosque of Suleiman on Map
Walking Tours in Rhodes, Greece