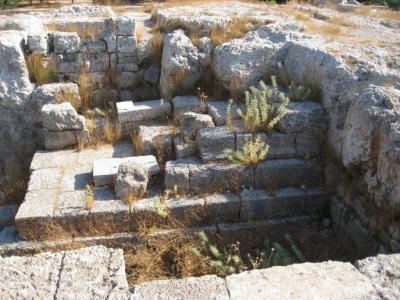 Nymphaia Cave Sanctuary, Rhodes
The Nymphaia is located to the south west of the Stoa and at the northern edge of the Acropolis. It consists of four caverns chiseled into the earth with passages interconnecting the subterranean spaces. Within the caves there are grottoes where statuettes were placed along with water cisterns that connected to the underground aquaducts. Green spaces at the entry area of the Nymphaia were used as a place for quiet reflection and worship during Hellenistic times in ancient Rhodes.

In the ancient Greek religion, there was a strong belief in nymphs, which were supernatural female water sprites. Nymphaia, such as that found here on Rhodes, were constructed in natural grottoes and usually had water associated with them - as was the case at this site. They were generally dedicated to a particular water nymph, although it is not known exactly which nymph the Rhodes Nymphaia was built for.

The Nymphaia, along with the rest of the Acropolis, is an open air site and is open at all times. Wandering the Nymphaia and exploring its caves is a great way to escape the heat. The Nymphaia a peaceful place to reflect on how life must have been millennia ago on the island of Rhodes.
Nymphaia Cave Sanctuary on Map
Walking Tours in Rhodes, Greece