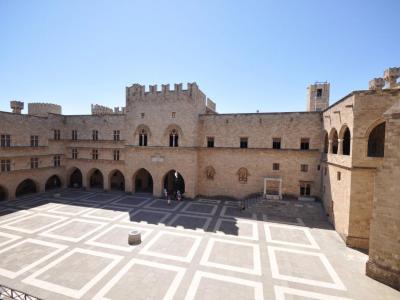 Palace of the Grand Master of the Knights of Rhodes, Rhodes
(must see)
The Palace of the Grand Master of the Knights of Rhodes is also known as the castle. According to archeologists, the palace sits on the site of an ancient temple dedicated to the Sun-god Helios.

This impressive medieval Gothic palace was originally built in the seventh century. Over its history, it has served as a Byzantine citadel, a palace, a fortress, and as headquarters. It sits on the highest point in Rhodes.

During the 14th century, the Knights Hospitaller used the palace as an administrative center and the Grand Master's palace. The Ottoman Empire captured the island in 1522, and the palace became a command center and fortress. In the early 20th century, Italian King Victor Emmanuel III and Benito Mussolini used the palace as a holiday home.

In 1948, Rhodes was transferred to Greek rule, and the palace was turned into a museum.

Two large towers flank the main entrance. The palace is arranged around a central courtyard. Hellenistic and Roman period statues line the courtyard.

The floors of the palace are decorated with impressive mosaics from the Hellenistic and Roman periods. Visitors are welcome to tour the palace rooms. Visitors can also access a small museum from the courtyard. The museum hosts an exhibition that shows 2,400 years of Rhodes history.

Why You Should Visit

The Palace is enormous, and the fortifications in place are impressive. The museum immerses visitors in the long, storied history of this fascinating city.
Palace of the Grand Master of the Knights of Rhodes on Map
Walking Tours in Rhodes, Greece