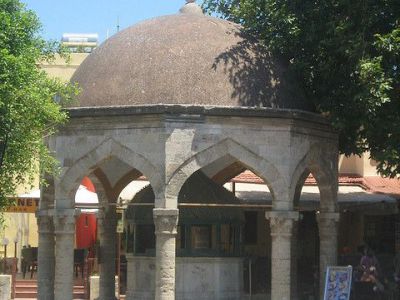 Rejep Pasha Mosque, Rhodes
The Rejep Pasha Mosque is one of the 14 mosques in Rhodes' Old City. It is considered historically important as one of the earliest examples of the Ottoman influence on the island. Constructed in 1588 from the remains of destroyed churches, it is best known for containing the tomb of Rejep Pasha. It also features impressive minarets, a dome, mosaics and a stunning fountain.

The mosque had recently been reinforced to strengthen the ageing foundations; however it has also suffered recent collapses, which have extensively damaged the Colonnade, extending from the Prayer Hall, and placed pressure on the entire structure.

Following a restoration, there have been plans to turn it into a museum for Islamic art. Indeed, the mosque is known to have a great deal of impressive Islamic art within its walls. The future of the iconic and historically significant mosque is up in the air, due to lack of funding. Without extensive reparations it may not be around for much longer and its future depends on significant restoration and structural renovations.
Rejep Pasha Mosque on Map
Walking Tours in Rhodes, Greece