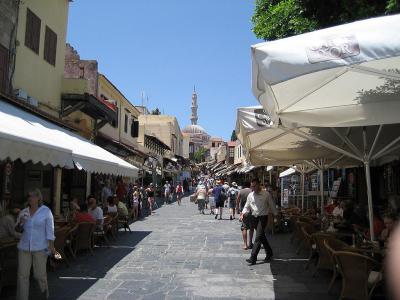 Sokratous Street, Rhodes
Each resort town has a shopping street where you can buy souvenirs and try local delicacies. The island of Rhodes' capital is no exception and has one such venue of its own, called Socrates Street in honor of the famous ancient Greek philosopher and scientist.

As the city's main trade artery and popular thoroughfare, Socrates Street is lined on both sides with numerous shops, bars, eateries and entertainment venues, open from evening until early morning. A walk along the rows of outlets here can sometimes turn into a fully-fledged excursion, given the variety of goods on offer. Items of clothing, fabrics, shoes, all sorts of sweets, numerous figurines depicting the theme of Ancient Greece, handicrafts of local craftsmen and much more, fill the local counters every day. The ethnic contingent of sellers, many of whom are multilingual, is also extremely diverse. The colorful, vibrant atmosphere of this shopping mecca attracts crowds day and night.

A leisurely stroll down this cobblestoned street can also prove quite informative, as you get to see the majestic medieval sites: huge fortified walls of the Old City with ramparts and defensive moat, Byzantine churches and Ottoman mosques, squares, gardens and courtyards that carry a fair amount of historic charm and cause the curios to look inside.

In particular, there is the Archbishop's Palace towering over the square of the same name, the Commercial Tribunal built at the turn of the 16th century, the Sea Gate, and the absolutely charming Seahorse fountain. The street runs past the luxurious Suleiman Baths, where you can not only admire the richly decorated interior but also use it for the intended purpose. Another reminder of the Muslim period of Rhodes, the Sultan Mustafa Mosque, draws attention with its classic oriental surroundings.

In the southern part of Socrates Street there is a labyrinths of narrow lanes leading to Pythagoras Street with its 16th-century Ibrahim Pasha Mosque, and to Fanourios Street with the small Orthodox Church Agios Fanourios, built in 1335, and known for being partially underground.
Walking Tours in Rhodes, Greece