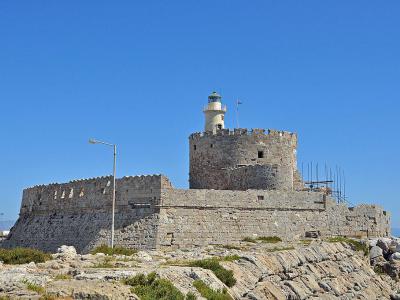 St. Nicholas Fortress, Rhodes
(must see)
The imposing St. Nicholas Fortress is located in the Rhodes Old City looking out over Mandraki Harbor. In ancient times Mandraki Harbor was a military space and in the 15th century a guard tower was constructed there on the orders of Grand Master Raimondo Zacosta.

Following the first siege, the tower was fortified. A bastion was added by Grand Master d'Aubusson and the newly formed fortress was named after the chapel inside it. It was largely thanks to the fortress that the Knights Hospitaller were able to fend off attacks from the Turks for so many years. Major sieges by the Turks were mounted in 1480 and 1522-23. The initial attack was thwarted, but the Turks ended up seizing Rhodes in 1522 and the Knights were forced to leave the city.

When the fortress was built, it took into account the Ottoman's use of cannons and other siege weaponry and its thick walls were impermeable for many years. Indeed considering their age, they are in excellent condition to this day. The fortress is hugely popular with visitors these days and it has been well preserved. You can walk along the path of the former moat, which has been dried out and provides a scenic, tree lined walking path.
St. Nicholas Fortress on Map
Walking Tours in Rhodes, Greece