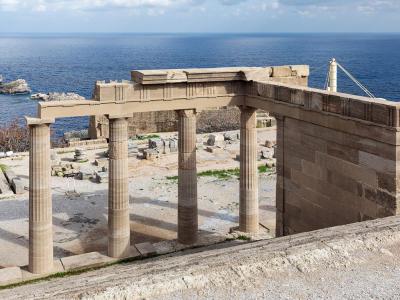 Stoa Building, Rhodes
The Acropolis of Rhodes, located three kilometers from Rhodes Town, was an impressive complex in its day, if its remains are anything to go by. One of the areas within the Acropolis, that is preserved for modern visitors, is the Stoa Building, built towards the end of the third century BC.

Back in classical times, the Stoa Building would have been truly impressive and it was so big that it could clearly be seen in Rhodes' lower town and harbor. A Stoa was a common building design in Ancient Greece and consisted of two long rows of columns with a roof resting on top and supporting walls at either end.

The Stoa Building at Rhodes has not survived intact, but many columns and the floor plan can still be seen to this day. It is 87 meters long with 42 columns in total and the middle of the supporting wall was cut for a grand staircase to meet it.

Following the original construction, the ancient Rhodians extended the building out and included two large, underground cisterns to collect rainwater from the Stoa roof and propylaea staircase. It is thought that the large building was used for market stalls and to provide a place for public events or shade from the burning sun.
Walking Tours in Rhodes, Greece