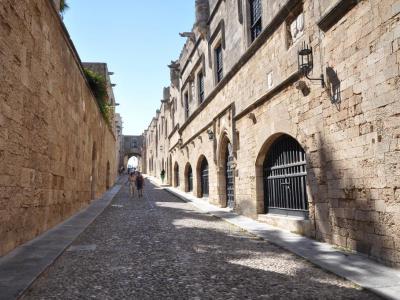 Street of The Knights, Rhodes
(must see)
The Street of the Knights is one of the most popular destinations in Rhodes. This street runs almost exactly east-west. This ancient cobblestone street takes visitors back to medieval times.

The Street of the Knights is one of the best-preserved medieval streets in Europe. The street runs from the square in front of the Knights' Hospital to the Palace of the Grand Master.

Along the street, visitors will find seven inns representing the seven countries from which the Knights of the Order of St. John came. The knights came from England, Germany, Italy, France, Aragon, Provence, and Auvergne.

Most of the Grand Masters were French, and the Inn of France is the most impressive of the inns. These inns were all constructed in the early 1500s and have been exceptionally preserved. The Chapel of the French Langue is next door to the Inn of France. The Chapel boasts a sculpture of the Virgin Mary with Christ. In addition, the Chapel features a Coat of Arms belonging to Grand Master Raymond Beranger, who was Grand Master in the mid-1300s.

Opposite the Inn of France, visitors will find a beautiful garden and an ancient Turkish fountain.

This street gives visitors a wonderful insight into Rhode's medieval architecture.
Street of The Knights on Map
Walking Tours in Rhodes, Greece