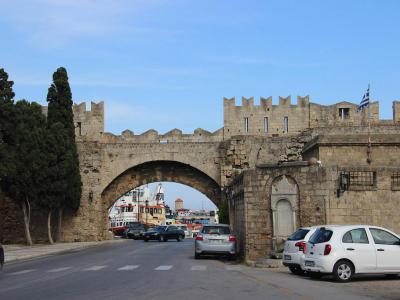 Tarsanas (Arsenal) Gate, Rhodes
Just a stone's throw away from the Aphrodite Temple, in the north-eastern part of the Old Town, is Tarsanas Gate (Pili Tarsana or Pili Navarhíou in Greek), also known as the Gate of the Arsenal. This gate was built by Juan Fernandez De Heredia, who was the appointed Grand Master Of The Knights from 1377 until his death in 1396. His coat of arms is displayed right here, at top of the gate.

Back in the day, the knights' arsenal was located between the gates of St. Paul and St. Catherine, and had direct access to the port. The Arsenal Gate got its name from the fact that through this passage the knights used to carry their weapons, munition and other military equipment into the citadel.

In 1908, to widen the access road to the Kolona Harbour, the Ottoman administration demolished the two side towers flanking the gate. As a result, today's Arsenal Gate allows a fast flow of vehicles between the Kolona Harbour and the new city, and also provides a direct link from the Old Town to the Commercial Harbor.
Tarsanas (Arsenal) Gate on Map
Walking Tours in Rhodes, Greece