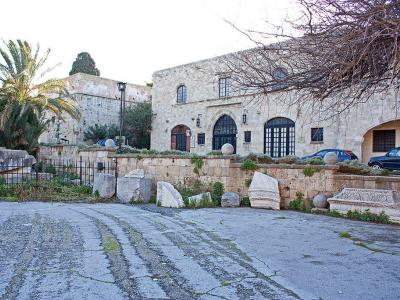 Temple of Aphrodite, Rhodes
The Temple of Aphrodite, or rather the remains thereof, located on Symi Square, outside the Eleftherias (Liberty) Gate in the Old Town of Rhodes, serves as a reminder of the splendor of ancient Greece that it once was. The sanctuary dates from the 3rd century BC and was built in honor of Aphrodite, the mythological Greek goddess of love and beauty.

Today the ruins of the formerly majestic temple are surrounded with a small fence. While the site is closed to the public, an information board outside the fence offers a detailed overview of the complex. The descriptions here are written in both Greek and English.

Those determined to have a glimpse of the place's former glory may get close enough to see the old building blocks and fallen columns. Some may even be able to make out some inscriptions on a couple of the flagstones.

The statue of Aphrodite Pudica, currently in the Archaeological Museum of Rhodes, is believed to have once stood in this temple, venerated by ancient worshipers.
Temple of Aphrodite on Map
Walking Tours in Rhodes, Greece