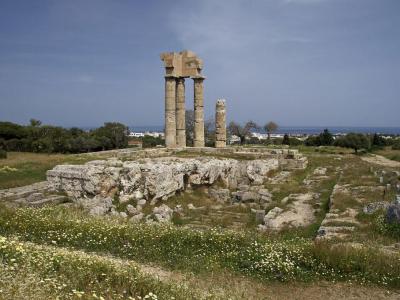 Temple of Pythian Apollo, Rhodes
The Temple of Pythian Apollo is part of the fabulous Acropolis excavation work completed in Rhodes. The Greek Archaeological Service continued the work started by the Italian School of Archaeology at Athens. The Greek Arcaelogoical service started working on restoring the Temple of Pythian Apollo in 1946. Unfortunately, the temple suffered heavy damage from WWII bombs. In addition, it was damaged by the weight of artillery that was installed there.

The Temple of Pythian Apollo, along with the other Acropolis sites, dates to the Classical Greek period and the Hellenistic Period, from the third to second centuries BC. The Temple of Pythian Apollo is on the southern part of the hill and is smaller than other temples on the site. Pythia was Apollo's Priestess, who gave oracles, divined the future, and was consulted before all major decisions.

Today, only a few columns and ruins remain. However, the location at the summit of the Acropolis provides wonderful views of old Rhodes and the sea below.
Temple of Pythian Apollo on Map
Walking Tours in Rhodes, Greece