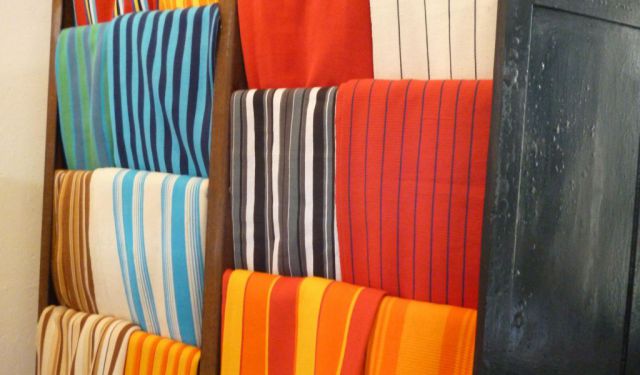 Colombia, Bogota Guide (D): Artesanías in Bogotá
Handmade Colombian artesanías (folk art and crafts) are among the best in the world. However, Colombia is a large country and the road infrastructure in more remote areas is poor. If you are here for only a limited time, traveling around the country to source artesanías will be impossible. Luckily, there are other options for finding artesanias, and the goal here is to make locating craft in Bogotá as easy as matching GPS coordinates.
This article is featured in the app "GPSmyCity: Walks in 1K+ Cities" on
iTunes App Store
and
Google Play
. You can download the app to your mobile device to read the article offline and create a self-guided walking tour to visit the attractions featured in this article. The app turns your mobile device into a personal tour guide and it works offline, so no data plan is needed when traveling abroad.
Attractions Map
Guide Name:
Artesanías in Bogotá
Guide Location:
Colombia » Bogota
Guide Type:
Self-guided Walking Tour (Article (D))
# of Destinations:
17
Sight(s) featured in this guide:
•
Artesanías de Colombia/ Las Aguas
•
La Casona del Museo
•
Artesanía de Guacamayas
•
Galería Artesanal de Colombia
•
Muebles, Artesanías y Regalos La 60
•
Escuela de Artes y Oficios Santo Domingo Store
•
Motalas
•
Artesanías el Zipa
•
Artesanías de Colombia/ El Chico
•
El balay
•
Artesanías Lana Lana Cuero Cuero
•
Miscelanea Mahecha No. 2
•
Artesanías Colombia
•
Mambe Shop
•
Artesanías Latinoamericanas
•
Mutesa/ Mujer, Tejer y Saberes
•
Xué Artesanías Colombianas

Author: Christopher Burke
Author Bio: Christopher Burke, writer and artist, has been a resident of Bogotá, Colombia for the last 4 years. He is an enthusiastic advocate for the uncelebrated charms of the city of Bogotá.
Author Website: http://christopherburkecolombia.wordpress.com/
1 1) Artesanías de Colombia/ Las Aguas
This is one of two Artesanías de Colombia stores in Bogotá. The store is located downtown in a colonial complex of buildings where Artesanías de Colombia, a semi-governmental group dedicated to the advancement of folk art in the country, has its headquarters. The store recently changed its entrance. It can still be accessed through the large main door right next to the Church of Las Aguas ...... if you can negotiate with the guard in Spanish, but it is much less effort to go around the corner...
2 2) La Casona del Museo
La Casona del Museo is located right around the corner from the entrance to the Gold Museum. This is prime tourist real estate in Bogotá, and you might be tempted to just walk on by, thinking that it's a tourist trap. But you should overcome your bias and stop in. There are many many small stores here offering all kinds of Colombian handicraft not easy to find massed together in other places. The sales people can be a little zealous when inviting you into their shops (they are simply eager...
3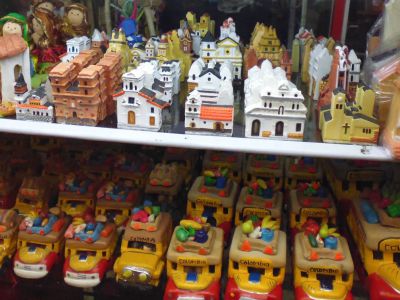 3) Artesanía de Guacamayas
This stand is just one of many at this location, the Colombia Linda Commercial Center. Located in a faded republican building, the Colombia Linda stands offer a somewhat hit and miss range of Colombian artesanías. You will have to pick and choose here, but there are rewards. The building itself is only half a block away from the Sunday and holiday flea market, so if you plan to visit the flea market, walk on over. The reason I like Artesanía de Guacamayas, Stand 126, is that they sell small...
4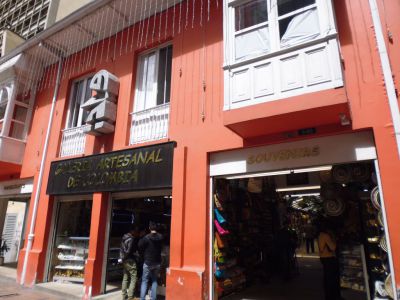 4) Galería Artesanal de Colombia
You practically bump into this building exiting the Museo del Oro in downtown Bogotá. Again, as with the nearby Casona del Museo, you should overcome your hesitance about going into such an obvious tourist haunt and take 15 or so minutes to walk around this mini mall of artesanías. There is a lot available in one location here, including hammocks, ethnically decorated purses and wallets, mochilas and colorful sandals and shoes. You will not find this variety as easily further uptown during the...
5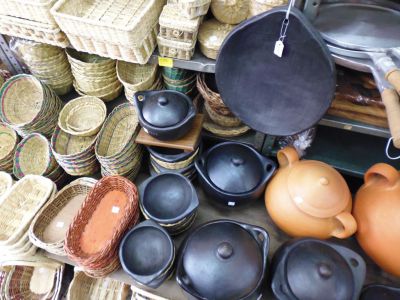 5) Muebles, Artesanías y Regalos La 60
This small off-the-beaten-track store has no name on the awning outside, but its name in case you were wondering is MAR for Muebles, Artesanías and Regalos (Furniture, Artesanías and Gifts). If you are staying in Chapinero or just visiting the Iglesia de Lourdes, and with not a lot of time available to get to artesanías stores farther afield, this is a good spot to know. In this somewhat forgotten corner of Chapinero, there were once up to a dozen artesanías stores. Two remain, this one and...
6 6) Escuela de Artes y Oficios Santo Domingo Store
Just a block off the Plaza de Bolivar in the center of the city, the Escuela de Artes y Oficios Santo Domingo (the Santo Domingo School of Arts and Trades) occupies a fabulous group of historic buildings. The Santo Domingo, which offers apprenticeships in carpentry, weaving, embroidery, leather and silver work, is located on Calle 10, also known as Calle del Divorcio (Divorce Street). And the School has a great store. They call their store as a showroom (which it is), but everything here is for...
7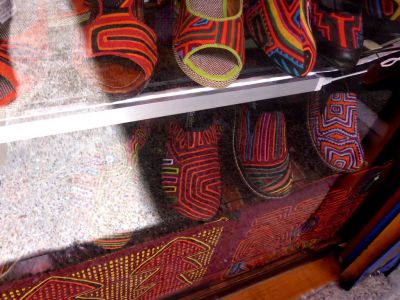 7) Motalas
As you leave the Plaza de Bolivar and walk a black and a half north along 7th Avenue, you come to the Centro Artesanal Plaza Bolivar, a mini mall of stores on your right. The place doesn't look like much from the outside, but way at the back is Motalas, a source for molas (traditional indigenous sewn tableaux from the area of Colombia bordering Panama). Motalas sells molas, and all kinds of bags, shoes and wallets with molas incorporated into them. Also, in the Centro Artesanal Plaza Bolivar...
8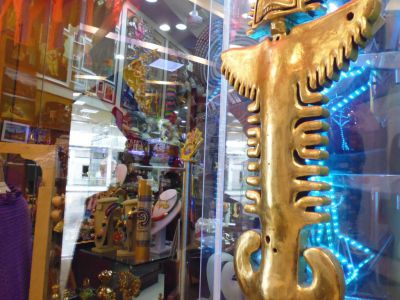 8) Artesanías el Zipa
This small enclave of artesanía offerings is situated right behind the Zara Men's Store on the second floor of the upmarket and hopping Unicentro Shopping Center in the north of Bogotá. This is one of the most visited shopping centers in the city (never on a Saturday!), but if you are staying in the north of the city with limited time available for sourcing artesanías and your friends insist that you visit here, tell them you want to stop in at Local 2-110 (the internal Unicentro address...
9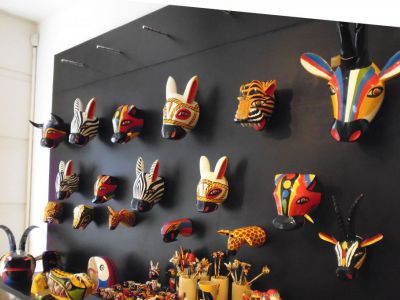 9) Artesanías de Colombia/ El Chico
This is a wonderfully conceived space for Colombian artesanías. I buy here (but I buy artesanías everywhere I can in Bogotá – I love craft!). This store is within the general shopping area of all that is desirable in this city – you are shopping upmarket when you enter this store. But here you are getting what you pay for. At Artesanías de Colombia El Chico, you are getting finely and expertly produced artesanías at actually a very fair price. This is the crème de la crème of...
10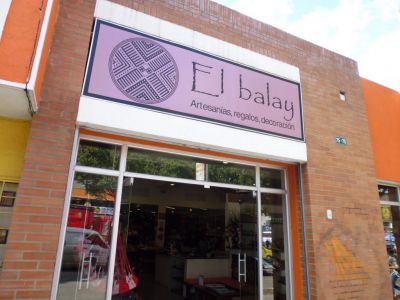 10) El balay
El balay has a pretty large store of artesanías close to Unilago, the discount computer area of Bogotá. In fact, along a couple of blocks here on Carrera 15, there are a number of artensanías stores. A balay is a traditional almost flat round basketweave implement woven from palm leaf strips and used to sift flower. The store uses a balay in its logo. The people at El balay are friendly, and the store has pretty much the usual gamut of popular artesanías that you find at other artesanías...
11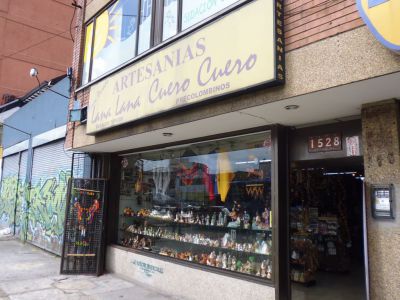 11) Artesanías Lana Lana Cuero Cuero
Artesanías Lana Lana Cuero Cuero (Wool Wool Leather Leather) has two locations huddled together on a stretch of Carrera 15 between 74th and 75th Streets. And then there is this location just around the corner on 74th Street. This store is a little bit more airy than the others, and I like this store for one reason; here, you can find basketry from the Guacamayas region of Colombia. In particular, here you can find colorful shopping baskets in different sizes, baskets that I haven't seen at...
12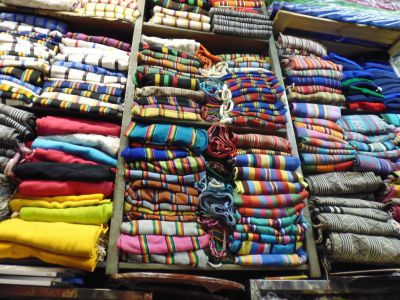 12) Miscelanea Mahecha No. 2
A strange name to be sure, but if your goal is to buy a hammock while in Colombia, you will definitely want to stop by this location. Miscelanea Mahecha No. 2 is somewhat difficult to find, tucked away in the Pasaje Rivas not far from the Plaza de Bolivar. The store can be accessed from Calle 10, by walking through the passages of the Pasaje Rivas, or from Carrera 10. From the entrance to the Pasaje Rivas on Carrera 10, this store is about three of four stores in on your left. Here step back in...
13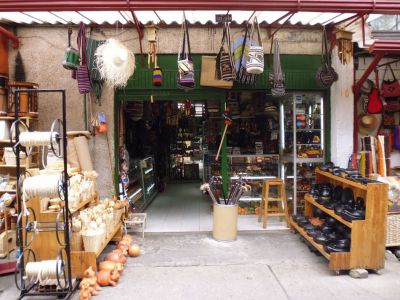 13) Artesanías Colombia
In the Pasaje Rivas and the Pasaje Colonial, you may find yourself overwhelmed. Here you are firmly within the mother lode of popular artesanías in Bogotá. Your eye will try to take in the interesting among the large amount of product available while the store attendants will vie to get you to shop at their spaces. The stand owners can be insistent; a la orden (at your service), they say as you pass. Take your time and look carefully. There are special and unique pieces available here. And...
14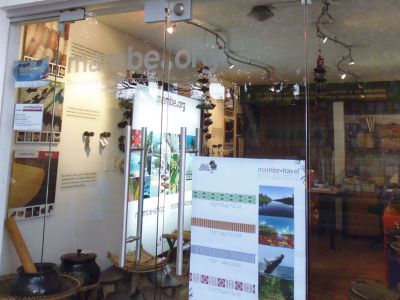 14) Mambe Shop
Mambe Shop is very special in Bogotá. Tucked away on a back street in Usaquén, the store from the outside looks more like a tour operator (which it is, offering very specialized cultural tours in Colombia) than an artesanías shop. But artesanías shop it is, and a very very good one at that. The people here deal directly with indigenous artisans in various regions of the country and believe in fair trade. And the artesanías on display here are unique, not at all the common popular pieces...
15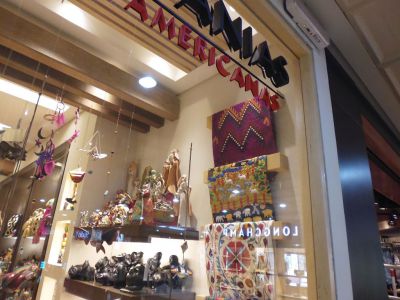 15) Artesanías Latinoamericanas
This smallish store is located on the main floor within the Centro Comercial Andino, probably the most upmarket shopping center in the city. Tiffany recently opened a store at Centro Andino as did Dolce & Gabbana, so you will understand that bargaining for price is not going to be an option here! Though small, the store carries a tasteful selection of Colombian artesanías, and if your schedule in Bogotá doesn't allow you time to run around town much, stop in and perhaps you will find...
16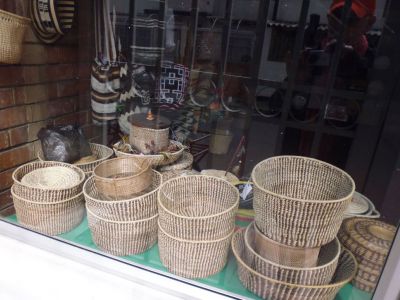 16) Mutesa/ Mujer, Tejer y Saberes
Mutesa is the store of a foundation that is doing tremendous work with indigenous women who are victims of forced displacement in Colombia. The women who create the work here come from many different regions, and this store offers them an outlet for their handiwork and a means to begin to be self-supportive. The store itself in only a block off busy Carrera 7, but it's a world apart. You will need to ring the bell by the front door to get the attention of someone who will attend you in the...
17 17) Xué Artesanías Colombianas
If you come to Usaquén on a Sunday or a holiday, you will find the streets filled with artisans selling their handicrafts. On the other hand, if you come to Usaquén on a weekday, you will have the streets pretty much all to yourself. For artesanías, the Mambe Shop is here (see separate entry). And then at the northern edge of the village of Usaquén, you will find Xué (Xué was the Sun God of the Muisca people) Artesanías Colombianas. The friendly owner here will be happy to tell you the...
Useful Travel Guides for Planning Your Trip
--- 18 Uniquely Columbian Things to Buy in Bogota
To those who understand Russian, the word "Bogota" sounds very similar to the one translating as "rich". And, indeed, the city does live up to this name connotation in terms of peculiar things worth exploring in addition to coca, coffee and emeralds. Here's the longer list... Enjoying Onces in Bogota
Elevenses, on the surface, seem to be a particularly British tradition, a break for something light and sweet between breakfast and lunch, a time to gossip, a time to catch up, a time just to be. Lo and behold, Colombia somewhere along the line adapted this tradition in a particularly Latin fashion....