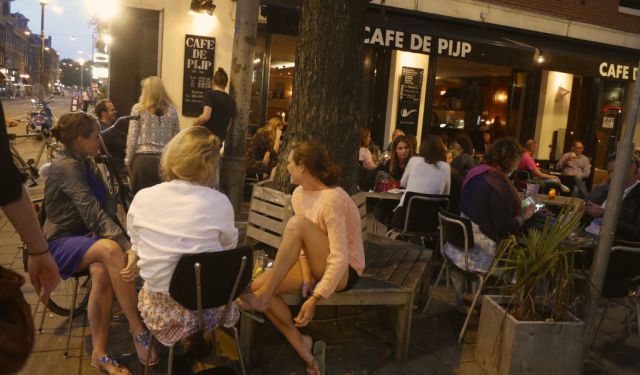 Bars of De Pijp, Amsterdam, Netherlands (D)
De Pijp area of Amsterdam is a fascinating mixture of trendy urbanites, students, immigrants and Amsterdammers, which is reflected in the different cafés of the area.
The directory takes in places that serve food, where you can hear music, where you can watch the world go past from a terrace, traditional brown cafes and the unique experience that is a Night Bar. De Pijp truly has it all.
How it works:
The full article is featured in the app "GPSmyCity: Walks in 1K+ Cities" on
iTunes App Store
and
Google Play Store
. Download the app to your mobile device to read the article offline and create a self-guided walking tour to visit the sights featured in this article. The app's navigation functions guide you from one sight to the next. The app works offline, so no data plan is needed when traveling abroad.
Sights Featured in This Article
Guide Name:
Bars of De Pijp
Guide Location:
Netherlands » Amsterdam
Guide Type:
Self-guided Walking Tour (Article (D))
# of Attractions:
27
Author:
Steve Voyce
Author Bio
: Steve is originally from London, but has lived in Amsterdam, The Netherlands for 15 years. He loves everything about Amsterdam and considers himself a real local. He writes fiction and non-fiction that often features this amazing city.
Sight(s) Featured in This Guide:
Kingfisher
O'Donnell's Irish Pub
De Pijp
Mazzeltoff
Eddy Bar
Toko
Gambrinus
Gollem
Het Paardje
De Pilsvogel
Chocolate Bar
De Duvel
Café Krull
Flinck
Barca
Braque
Sarphaat
Café De Punt
CC Muziek café
Café De Kroeg
Café Marie
Flamingo
Schilders
Quinto
Izakaya
Café Binnen Buiten
Vrienden
1 1) Kingfisher
Kingfisher is the kind of laid-back, cool, place that De Pijp area is renowned for.

If you like an unpretentious, fun, bar that on evenings bursts with trendy people – think young professionals and media-types, rather than students – this is the place for you.

Saying that, Kingfisher has a no-nonsense relaxed atmosphere - the good friendly service helps – and is also a great place if you are looking for a bar to relax with friends, or to meet up before going on elsewhere.

In summer it has outdoor seating to enjoy the sun setting, but this can get crowded, so get there early!

By day Kingfisher is a good place to read, use your laptop (ask about the free wifi) or eat. The food is generally good; try the Tandoori chicken Pita bread, or the usually excellent Dag Menu (day menu) for something more filling. The kitchen is open from 10am until 10pm, lunch is served until 4pm, and the Dag Menu is served from 6pm until 10pm.

In the evening, if you're in a group, spread-out at one of the lower tables at the back, or if you're a smaller group we recommend sitting at the bar to chat to a member of the friendly staff while enjoying one of their cocktails or a Ij Beer (brewed locally) and a plate of bitterballen. Or if you're in a dangerous mood, try a neat vodka served in a frozen glass.
2 2) O'Donnell's Irish Pub
The main bar in De Pijp to watch sports, if that's your kind of thing, and on match days and evenings it can get very busy, especially for big English matches and anything involving Ajax. (See the chalkboards for upcoming televised matches from the Premier League, Eredivisie, international football and rugby).

O'Donnell's is one of the larger bars in De Pijp (it has the longest bar) with a good selection of seating; we're slowly being won over by the armchairs by the door which have replaced the much-missed booths. There is a large terrace, on the Heinekenplein, in the summer and a smaller, heated, one during the colder months, and a big smoking room at the back that also contains the pool table. Be warned that on a hot summer afternoon, or evening, service can often be sporadic on the terrace.

Despite its size, it's a surprisingly cosy place in the winter, but can get busy in the evenings, especially at the weekends, and sometimes the bar staff find this difficult to cope with.

The food leans more toward traditional British pub grub and the attempt to modernize it lately (panini and ciabatta on the menu) might not be necessary, if it ain't broken.... Breakfasts are great – considered the best fry-up in town – and their fish and chips are always a winner.

O'Donnell's serves a huge selection of drinks, including at least 25 Whiskeys, and a good collection of beers, notably Guinness on tap.
3 3) De Pijp
Even though it is now synonymous with the area, De Pijp is a surprisingly new addition, opened only within the last ten years. During that time it has established itself as a favourite among locals and visitors alike because of its great atmosphere, good service and fine selection of food and drink.

During the afternoon it has the feeling of a neighbourhood café; sit and enjoy a coffee, mint tea or glass of wine in the calm interior or on the small terrace; even ask to borrow one of their board games. By evening De Pijp becomes busier and you may need to reserve a table if you want to eat, especially at the weekend, but the atmosphere is always relaxed and friendly.

De Pijp has one of the better menus in the area, fresh ingredients prepared with care, and if there is a couple of you should try three or four of their smaller dishes to share which make up a great meal.

On a Friday evening De Pijp has a DJ and Monday nights are student night – they eat cheaper – so both evenings can get busy.
4 4) Mazzeltoff
One of the ways to approach Mazzeltoff would be to get there at 9pm and spend the evening watching the place gradually fill up and get louder. Or you could do what everyone else seems to do and once the bar that you are in closes, head to Mazzletoff for "one last drink."

Believe us, we've tried both techniques, and they have their equal merits, but we think we prefer arriving later for a last drink. Or two.

For a bar whose clientele is mainly those whose night just has to go on a little bit further, Mazzeltoff is a surprisingly cozy place, with a nice friendly atmosphere. There is even good service from the poor, put-upon bar staff, and a decent selection of drinks – although don't ask to see the wine list!

It obviously gets (very) crowded late at night, at the weekends especially, but the crowd tends to be a good cross-section, unpretentious and friendly. Like any such place it can become very noisy, but until 24 hour licensing becomes law in Amsterdam this is one of the nicer places you can enjoy a late night drink. We heartily recommend that everyone try it at least once.
5 5) Eddy Bar
Andre Hazes is somewhat a legend in Amsterdam and The Netherlands beyond. His funeral a few years ago took on the kind of significance that one for a member of royalty or a politician might do in another country. His songs are an unofficial soundtrack for the Dutch nation.

Hazes pretty much grew up in Eddy Bar and the place has his memory soaked into every surface. This is perhaps the ultimate Amsterdam bar, from the music on the jukebox to the carpets on the tables to the dartboard and, of course, the patrons. It even has authentic dust!

Eddy Bar is a relaxed place where everyone is treated well by the friendly staff. You can drink beer with locals whilst listening to Andre's songs and playing pool. In the summer they even set up a couple of tables on the street outside.

This is a great example of a place unique to Amsterdam and Holland, one of a kind that shouldn't be missed: unchanged and unchangeable.

We especially recommend a visit at the end of June or September when the bar, and street outside, is full of Hazes fans celebrating his life on the anniversary of his birth and death. Not to be missed.
6 6) Toko
Café Toko is a relatively new addition to the Pijp bar canon, but gaining a good reputation as a contrast to the more established places across the Albert Cuypstraat. A nicely decorated, if a little dark, space with some lovely touches, that really comes alive at night with a friendly crowd and in-house DJs.

Toko has a good selection of drinks, including an educated wine list and some particularly tasty fruit-based cocktails (although don't let that fruit foil you, these pack a punch). If you feel the need to relax try one from the comfort of the sofa at the back of the room.

The menu is a clever, tasty combination of good steaks and burgers with some really super bar snacks – the duck crispy pancake rolls are our particular favourite.

On its downside, the bar has no terrace and is closed on Sundays and Mondays, although you can rent the space for private parties on those days, which we think is a good thing. But if you're looking for a fun, contemporary place to enjoy a great night, this could well be the place.
7 7) Gambrinus
A wonderful bar situated just a little further south from the main Pijp area, along the Ferdinand Bolstraat. It's well worth a visit as it has a great atmosphere (gezellig) and really good service.

The kind of place to go to if you want a "simple" glass of beer, a good chat and unfussy food. In the warm months there is outside seating where you can watch the day or night unfold.

Gambrinus can be busy on a Thursday, Friday and Saturday night; sit "upstairs" at the big table and people-watch. Or visit during a quiet Sunday afternoon or weekday evening for a drink and a game of Scrabble.

On the whole, a lovely local bar that we can't recommend enough.
8 8) Gollem
Technically this is actually Gollem 2, as it's the younger brother of the main Gollem, which is situated on the Overtoom. But don't let that stop you; this Gollem has everything that is good about the big one, with a more Pijp-vibe.

Gollem was the first cafe in Amsterdam to import foreign beers and they still pride themselves on the depth and quality of their offering. Just make sure you come here wanting to drink beer! The bar stocks over 150 bottled beers, has 14 on tap with the majority of beers coming from Belgium, but there is also a fine selection of international ones too, something to match everyone's taste. Try the Pauwel Kwak for a light and fruity but strong Abbey beer, or the champagne-like peachy Mort Subite Peche Lambic, or Leifmans' cherry beer, which tastes out of this world. A word of warning: a good amount of the beers served are of high alcoholic content, so drink wisely and take good care.

Gollem runs a pub quiz every Tuesday evening, the quiz is in Dutch but for those non-speakers its good fun to watch. They also have regular tasting evenings (check their website or ask behind the bar for details), or will organize tasting events for your party where possible. There's even appetizing bar snacks to help soak-up some of that alcohol.
9 9) Het Paardje
Possessor of one of the largest, sunnier, terraces in De Pijp, The Little Horse (Het Paardje), is another relatively newcomer to the area. Situated on the Gerard Douplein, a busy square just off the Albert Cuyp, Het Paardje is a bar that typifies the whole Pijp mood: simple food and drinks, a good vibe – especially in the evenings – and the sort of service that is sporadically good.

If you want to spend a pleasant summer afternoon drinking Amstel while watching the hustle and bustle of the area, this is a great place. The terrace is well stocked with seating, but can get extremely busy, particularly in early summer, with the clientele tending toward the younger end of the locale mixed with a smattering of tourists drawn to the nearby market.

In the evenings in summer the whole square is awash with people, many of them at Het Paardje, which leads to a party-like atmosphere most nights. In the winter the inside of the bar is a snugger place to enjoy an evening, but can get elbow-to-elbow on the busier weekends.
10 10) De Pilsvogel
Pilsvogel literally translates as Beer Bird, which can't be a bad thing, can it? This more established café is on the opposite corner of the Douplein from Het Paardje, and appeals to a similar, slightly more studenty, crowd. But don't let that put you off as the café has a lot to offer, not least excellent service and a good selection of wines; we're very fond of the Rioja.

Although not the biggest bar in town – inside can be very snug – the place has a really great atmosphere. You'll be equally happy under the heaters and surrounded by candles on the terrace or tucked up inside on a winter's night with a glass of beer.

The food at Pilsvogel is always worth tasting, from the wonderful Tapas selection, through to the more "traditional" main dishes, such as steak or vegetable lasagna. And we've actually been told on more than one occasion that the saté here is the best in town.

As with all the bars around the Gerard Douplein, the café can get busy on weekend evenings, and if you want to eat you'd best reserve a table. But if you need a good sandwich at lunchtime, a coffee or a fun evening you couldn't choose better venue.
11 11) Chocolate Bar
The Chocolate Bar has nothing to do with chocolate, except maybe for the décor, which edges towards the browner end of a retro 60s feel. This is the kind of cool spot that rode the first wave of new bars opening in De Pijp ten or so years ago, and has gone on to become a local fixture.

The space itself is an L-shape with a large bar and seating area going round to a more lounge-y space at the back, great during the colder months. There's seating outside that can get busy and is right on top of one of the main thoroughfares to the market, so great for people-watching.

During the day the service is friendly and the food is excellent: they serve everything from (continental) breakfast, through great lunch items – we really love the Choco Club sandwich and are big fans of the warm Little Italia sandwich – to a full three-course evening meal (look out for the fish of the day from the near-by market). They also do a nice line in bar snacks to keep you going while enjoying a drink or two. Look out for Thursday night when 2 cocktails are 10 euros, well worth it.

Friday and Saturday nights are busier nights with an in-house DJ, but on the whole this is a great establishment and well worth checking out, whatever time of the day.
12 12) De Duvel
A real diamond in De Pijp's crown; a more traditional brown café, with a modern twist, that encompasses a first-rate wine list with the kind of classic food that reflects the close proximity of the market and some extremely interesting cocktails – we like the sound of the Cointreaupolitan, and it's on our list of things to try next. Combine those with the sort of gezellig that you only really find in Amsterdam and you have a really top place.

The interior is a nice size room tastefully decorated in keeping with the environment with a good number of seats. Outside the leafy terrace has a significant amount of seating, under heaters when needed. It's a lovely spot to enjoy a drink after a walk in the nearby Sarphartipark, or to while-away the evening.

With superb service and a selection of delicious food that has an interesting twist on the "normal" brown café fare you'll see why De Duval is a successful, enormously popular place. And don't forget Devil's Friday, when the chairs and tables are pushed back at 10pm and the weekend is welcomed in with music and dancing.

Oh, and we're big fans of their wonderful chalkboards, the hand-drawn menus are something special.
13 13) Café Krull
The thing that struck us on first visiting Krull many, many years ago was "Wow, they serve Guinness." A small thing, we know, but back then a rare thing. And in in De Pijp it still is rare today. So if you're looking for a Guinness and want to try somewhere different that O'Donnell's, then this is your place.

Krull is probably best approached during the daytime, it sits on a corner overlooking the Sarphartipark and has a nice outdoor seating area that makes the most of the position and is as good a place as any for a coffee on a warm summer's morning. Inside is cozy during the day with a good choice for lunch and dinner. Sit at the big reading table by the window with your laptop, a magazine and a slice of apple pie and you'll have a nice time indeed.

Evenings can get a little busy, and sometimes the staff can struggle to cope with this, but as a fresher alternative to more traditional brown café, this is a decent enough place.
14 14) Flinck
Not to be confused with the – now closed – Flinckx restaurant further east down the street, we really love Flinck for lunch and dinner, or a drink; anything, really. Situated on a busy corner close to the market, the café manages to combine being tourist-friendly with a good cross-section of locals and the more recent incomers to the area. You'll discover everyone and anyone enjoying one of their great open sandwiches, a steak, a beer or a glass of wine. There is seating outside to appreciate those warmer days and nights too.

Refurbished from a tired old bar a few years ago, Flinck is gaining a reputation as one of the better cafés of the area, with precise service to match. We like the real warmth the interior gets in the winter; it's a nice place to retreat to after a tough trip down the Albert Cuyp. However, beware of the see-through section of floor on the mezzanine… it takes many by surprise.

We like to drink the Vedett beer that Flinck serves, and eat the fresh fish straight from the market and if there are Ribs on the menu, we suggest you go for it. And they also do amazing things with truffle mayonnaise.
15 15) Barca
Barca has managed to make a success of a spot on the square that seemed to be the failing of a lot of previous establishments. It even managed a refurbish a couple of years ago to take it from strength to strength. With its large, buzzing terrace in the summer and modern interior, Barca attracts a great deal of out-of-towners (it seems to be on a must-see list for a lot of young, non-Amsterdam Nederlanders). It's also the go-to place to watch any Barcelona FC match and, subsequently, it's the place to celebrate when they, or the national Spanish team, inevitably win.

Although perhaps viewed by more trendy locals as slightly tacky, the café has a lot going for it, offers a good selection of – of course – tapas and Spanish wines and Cavas, although maybe some more Spanish beers could be a nice addition. They also mix a good Mojito, which seems to be a winner on summer afternoons and evenings.

Despite often being busy, especially in the evenings when the place can be over-run with groups of work-colleagues letting off steam, which can also reflect on the speed of service by the rushed staff, the bar maintains an intimate atmosphere.

We also suggest that if you're looking for a bite to have next to your drink you go for one of the tapas dishes, rather than one of the Platos, which we feel are a touch overpriced.
16 16) Braque
A real slice of Paris at the other end of the Albert Cuyp from the market, this is more of a restaurant than a bar, but we've included it because they cook great food, have friendly staff and serve lovely wine. And you can just sit at the bar and take a drink if you want. So what can be wrong with that?

Braque has an air of one of those French places you stumble across on vacation, right down to the zinc chairs on the pavement outside and the snails on the menu. And obviously the wine card, which is not just fixed on French wines; you'll find excellent ones from the new world and around Europe too.

A good brasserie always has great Steak Frites and you won't be disappointed here. Nor by the snails, although they tend to be served at a temperature pretty close to volcanic. There should be something for everyone on the short and pin-sharp menu; we recommend the fish daily fresh from the market – recently we had an amazing sea bass with aubergine and sweet potato that we talked about for weeks.

Make use of the Early Bird offer (order between 18:00 and 19:00), which is a stripped down three-course option, if the slightly higher prices look to deter you, but otherwise enjoy an excellent evening full of classic European cooking and some superb wines in a well-appointed environment with helpful staff.
17 17) Sarphaat
Despite its closeness to the park that shares its name and its big, split by the road, terrace, we actually prefer Café Sarphaat in the winter. The inside is a gorgeous mix of dark wood, chandeliers and candles that highlight the winter sun that slants in through the windows. A great place for lunch on a cold Sunday, or grabbing a hot chocolate and slice of apple cake on the way back from a bracing walk.

Saying that, it is also a good place for a beer on a warm evening or to even try one of their breakfasts on the terrace if the sun is shining. The service is usually good from a staff who strive to keep the atmosphere alive. There is a small kitchen in the back that manages to serve some really excellent café meals. You can easily spend the evening here and enjoy yourself greatly. A good local hang-out that has a lot more to offer.
18 18) Café De Punt
In it's beautiful corner building situated in a curious part of De Pijp, north of the market and across the street from a supermarket, De Punt has become a real favourite with locals since it opened. It's recently increased its arsenal with the addition of a wood-burning pizza oven, and has a good selection of toppings on offer. They also have a decent selection of beers and drinks and the non-pizza food is not bad at all.

De Punt is one of those bars that is not too trendy, not too local, and just about right. It has a good terrace running down both sides of the "point" and a nice atmosphere in the well-decorated interior. Look out for the before-mentioned pizzas, and also for the Sunday jazz jam, where anyone can join in. So grab your trumpet and turn up.
19 19) CC Muziek café
This place must have some really good noise-insulation! The Pijp's really sole music bar is down a quite residential street opposite Gambrinus. It's not the biggest space, but makes up by having a great atmosphere and the chance to listen to music played live every night. And a huge cross-section of music it is too, from Karoke nights, to open jamming, to Soul, Rock, Funk, you name it.

Sometimes on one evening you'll hear it all, if you're lucky. You might also be lucky to catch a band on their way up, or someone more established come along for the fun. But you'll have a great time, whatever the entertainment. You might even see Renee get out from behind the bar and up on stage.
20 20) Café De Kroeg
A surprisingly large interior behind the small frontage, Kroeg is the antithesis of the more trendier places in the area, but manages to attract a cross-section of patrons, from students through young professionals to older citizens. If Ajax are playing the place tends toward the beer-swilling fans watching the big screen, but otherwise it is a raucous mix having a great time, drinking and singing (there can be a lot of singing).

Kroeg is a good honest bar without pretentions, but be aware that smoking is tolerated inside. A great place to unwind and have a fun time.
21 21) Café Marie
A recent newcomer to the square, Marie has an emphasis on German food and beer, and – like its neighbour Barca – a large, sunny, terrace, the "Biergarten" that has a large amount of seating. But the interior is big too and has a good selection of tables, bar stools or sofas where you can enjoy Schnitzel, Stroganoff and large glasses of beer. There is also a good selection of salads and sandwiches and a decent drink menu.

Again, this is a place that manages to remain cozy despite it's size, great for an evening in winter, or to relax on the terrace in summer – on warm days, especially Sundays, it can get busy. A good, quirky, place.

Try a Jager-tea on a cold winter's afternoon, but be warned, we take no responsibility for the effect!
22 22) Flamingo
Flamingo is a smaller place right on the corner of the market, which makes it a great place for a glass of wine and to watch the world go by. It can be busy and noiser if you sit outside when the market is closing (around 5pm), but also interesting to watch from inside. Those guys work really hard.

A friendly bar with a good wine card and four beers on tap, it can get tight inside, especially in the winter, but that just adds to the atmosphere. We like it for a Sunday evening tipple or if we're in the mood, for the full Saturday night effect.
23 23) Schilders
The Painter's Bar is a nice take on a brown bar with a more contemporary feel to it. It's no-nonsense approach to food, drink and prices has endeared it to locals and students alike, but it also has a lot to offer the casual visitor.

This is a great place to grab a hearty lunch that wont break the bank or enjoy one of their beers (in specially designed glasses) and a borreltje in the evening. The well-designed interior has a great atmosphere, even if the service is sometimes a little unreliable. We love the detailing here, from the afore-mentioned beer glasses to the brass bar and the beautifully tiled floor.

There is a small amount of outdoor seating for the warmer days, or tuck yourself up inside in the winter with a borrelplank and glass of red.
24 24) Quinto
Not least because of it's fun-filled studenty Thursday, Friday and Saturday nights, Quinto has a reputation as the main party-bar of De Pijp area, and don't let it be said that those nights aren't good, cheesy fun, because they are. Since 1987 students and young people have been doing what they are good at until the early hours in Quinto and it's as good a venue as any.

But Quinto also has other sides. It has great, friendly staff and a good relaxed vibe. There is a surprisingly good wine-list, some tasty beers on tap, including seasonal specials, and an extremely good menu. The food is an original take on brown café fare, which covers tasty lunch items, the ubiquitous burgers and steaks and even a good choice for vegetarians. We're as always impressed with somewhere that has a dessert menu. There are also day specials based on what was good at the market. But for a cafe that is synonymous with students the prices aren't cheap, which maybe reflects it's place as somewhere students bring their visiting parents to eat.

On the whole, a complex, interesting café, that is as good for a quite Sunday lunch as it is for dinner with a group of friends, or watching football on the big screen or dancing the night away to ABBA.
25 25) Izakaya
There is a trend in Amsterdam for higher price range hotels and the bars that come with them. Some might consider this a good thing and we're sure that the city is happy to have a more upscale tourist and the money that they bring with them.

Izakaya is situated in the Sir Albert hotel on the western edge of De Pijp, next to the area's small red light district and opposite Café Buiten. It's a curious position that leans more on the projected future of the area rather than the past.

Downstairs in the converted diamond factory, Izakaya offers a Japanese take on the upscale hotel bar, with a huge selection of sake, interesting cocktails, and a comprehensive and cultured wine list. The menu is described as "Japanese grill with South American influences" and there is a big selection of smaller dishes that they recommend you order to share.

Like the service and drinks the food is truly excellent, but be very aware that it can be very expensive, especially if you choose to eat and/or spend the evening here. Before long your bill can be pushing the top range of anywhere in Amsterdam. That may not necessarily be a problem, but worth keeping an eye on!
26 26) Café Binnen Buiten
The name means Inside Outside, and it's not wrong, this is a place that comes alive when the weather is good. There is a significant amount of outdoor seating that faces west for some lovely sun-down drinks and a nice cozy interior for if the weather is inclement (though the outside heaters also make for year-round al fresco eating and drinking).

The menu is decent, if not too original, and the service can sometimes leave a lot to be desired, especially on those warmer days, but most come here for the ambiance and crowd. It's a cool place to hang out in, drink a beer and watch the sun-worshipping patrons.

We particularly like the kids paddling pools on those very hot days, excellent for soaking the feet…
27 27) Vrienden
Recently renovated and rebranded as Vrienden, from the previous Kale De Groot, this is a larger café on the corner of the square next to Barca. Vrienden has a huge terrace, which gets extremely busy in the summer and a large comfortable interior, all of which are well served.

The menus, food and drink, edge toward the more traditional side, which is wise, considering the alternatives elsewhere on the square, and all are good without being exceptional. It's the sort of no-nonsense, contemporary place that is equally good for lunch, dinner or a few drinks, without trying hard to do anything unique.

A good place to spend a warm afternoon, a hot evening or a cold day with friends.
Useful Travel Guides for Planning Your Trip
---