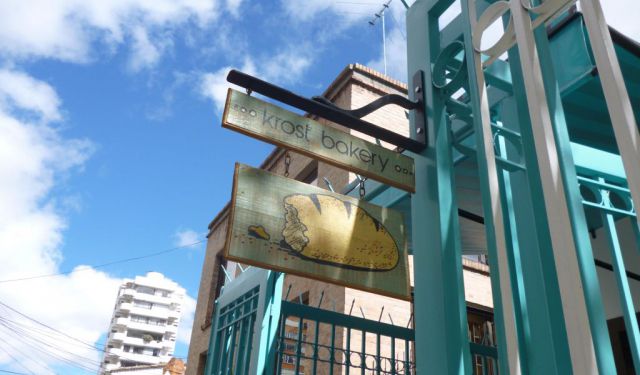 Enjoying Onces in Bogotá, Bogota, Colombia (D)
Elevenses, on the surface, seem to be a particularly British tradition, a break for something light and sweet between breakfast and lunch. Somewhere along the line Colombia adapted this tradition in a particularly Latin fashion. From 11 in the morning, Elevenses in Colombia got moved to 5 in the afternoon. The mid meal break is still called Onces (Elevenses) though in Bogotá this break is enjoyed between lunch and dinner.
How it works:
The full article is featured in the app "GPSmyCity: Walks in 1K+ Cities" on
iTunes App Store
and
Google Play Store
. Download the app to your mobile device to read the article offline and create a self-guided walking tour to visit the sights featured in this article. The app's navigation functions guide you from one sight to the next. The app works offline, so no data plan is needed when traveling abroad.
Sights Featured in This Article
Guide Name:
Enjoying Onces in Bogotá
Guide Location:
Colombia » Bogota
Guide Type:
Self-guided Walking Tour (Article (D))
# of Attractions:
16
Author:
Christopher Burke
Author Bio
: Christopher Burke, writer and artist, has been a resident of Bogotá, Colombia for the last 4 years. He is an enthusiastic advocate for the uncelebrated charms of the city of Bogotá.
Author Website:
http://christopherburkecolombia.wordpress.com/
Sight(s) Featured in This Guide:
La Romana
Philippe Pastelaría Light
Salón de Onces de Hobany Velasco
Masa
Pastelería Florida
La Tarta
La Puerta Falsa
Pastelería San Fermin
Dulce Mini-Mal
Café de la Peña, Pastelería Francesa
Il Pomeriggio
Bagatelle
Castellana 104
Michel Rosales
Krost Bakery
Zukerino
1 1) La Romana
If you are at the Gold Museum or the Emerald Museum in the late afternoon, La Romana is a just a short block away. Located on the south west corner of the Plazoleta Rosario right in the heart of the emerald district, and easily spotted by its red awnings, this café exudes history. There is nothing hip or contemporary here, just a soothing connection to the not so recent past. La Romana has been here since 1964. As I exited la Romana at around 5.30 very recently, I held the door open for two elderly Bogotano women arriving for their Onces. i.e. here you are privy to a connection to a downtown Bogotano tradition, almost overlooked, not gone, not forgotten.
2 2) Philippe Pastelaría Light
Patissier Philippe has 3 locations in the city, but I like this one on Calle 109 (109th Street) best. It is a busy place for Onces in an interesting part of town. Calle 109 is lined with one home decorating store after another, and the street gives you a sense of how those who can afford it like to outfit their homes in Bogotá. Philippe is also within walking distance of Unicentro. This location was very recently renovated and now has a much more contemporary vibe than it did. Philippe has wonderful fresh squeezed juices, but it's main claim to fame is that all the delicious baked goods made here are sugar free. How they do this? They use a product called Fructolight. The results are best savored in person. There is indoor and outdoor space to enjoy your Onces. Philippe is also a good people watching place, which after all is another reason to be out and about at this time of day.
3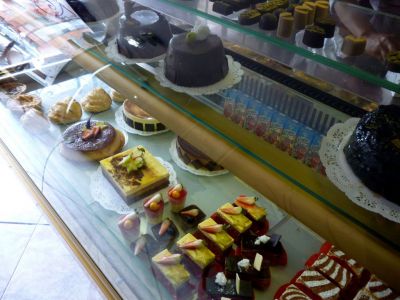 3) Salón de Onces de Hobany Velasco
Chef Hobany Velasco opened his eponymous Salón de Onces in this somewhat off the beaten track location in 2002. The quirky cafe is relatively close to Usaquén, and is within walking distance of the office towers at 116th and 7th. Chef Velasco has published two very well received pastry books, and offers Alta Pastelería (High Pastry - read as Top Quality Pastry) classes. A super treat for Onces here are the meringues.
4 4) Masa
Masa is a very fashionable, well-designed, high-ceilinged space in the Zona G area, accessed by a wonderfully over-sized door. There are two outdoor areas, and an indoor space with a central long communal table similar to Le Pain Quotidien. The menu lists 12 different kinds of juice, all good, and you can have your chocolate hot or cold here. Masa makes the best crusty sourdough bread in the city, though for Onces you may want to try their super over-almonded almond croissants or their sour grape and poppy seed dessert cake.
5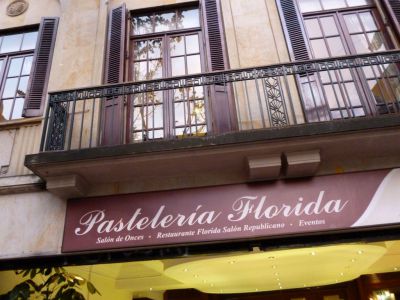 5) Pastelería Florida
The Pastelería Florida is one of the original Salones de Onces in Bogotá. Open since 1936 , the restaurant has just recently undergone a facelift. The retail bakery is now set in a glass-cased oval walk-in area directly accessed from the street, just a block away from the also refurbished Teatro Jorge Eliécer Gaitán. The street in question is Carrera Séptima or 7th Avenue, an avenue which along these blocks must be a long way from what it was in the 1940's. And yet, here at the Pastelería Florida, a doorman will hold the door open for you, and you will have a choice of rooms to sit in. On the main floor, though upgraded, the dining room still feels somewhat Howard Johnson 1980's-like. Upstairs, the Republican Room is a better choice. Here ask for a Chocolate (CHO-KO-LA-TE). You will first get a plate with a large non-descript roll and two slices of cheese. And you will be wondering, what? Then comes a serving pot with hot chocolate. The hot chocolate here, they say, comes with a secret ingredient - much like Coca Cola. Bogotanos pour their hot chocolate into their cup, and then sliver their cheese slices and add them to the chocolate to achieve a mixture of sweet and non-sweet. You can now drink your hot chocolate and chew on your roll! At the end, you will have to use a spoon to savor the last of the cocoa covered cheese at the bottom of your cup. Welcome to Onces in Bogotá!
6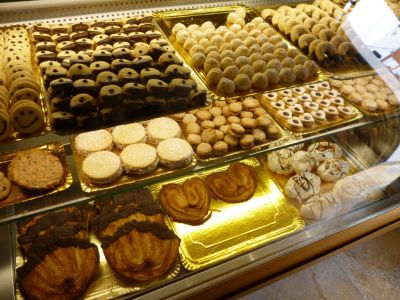 6) La Tarta
La Tarta in Usaquén is just a block off the main square. On Sundays though busy, it can seem like a refuge when Usaquén is overrun by families and sightseers out and about for an afternoon of Artesanias. During the rest of the week la Tarta offers a tranquil site for winding down the day in the late afternoon. This corner colonial building houses a wonderful Salón de Onces. Here, the shuttered windows and solid walls guarantee a connection to Bogotá's past. Onces are a time to reflect, to connect or reconnect, to meet with loved ones, to observe, and generally just to be and La Tarta is a great place to do just that in Usaquén, in the north of Bogotá.
7 7) La Puerta Falsa
The fake door, the wrong door, the inauspicious door, La Puerta Falsa has been here since 1816 - that's what the sign outside the restaurant says, and who are we to differ. For whatever amount of time that the restaurant has been here, la Puerta Falsa is still a pull for those visiting Bogotá for the first time. It helps enormously that the cafe is just a half block from the Plaza Simón Bolivar, the geographical center of the city. This shoebox size café offers deliciously sweeeeeeeet concoctions for Onces. Many are those who have fallen victim! The site is truly small but La Puerta Falsa offers an enormous welcome to Onces and to centuries past in Bogotá.
8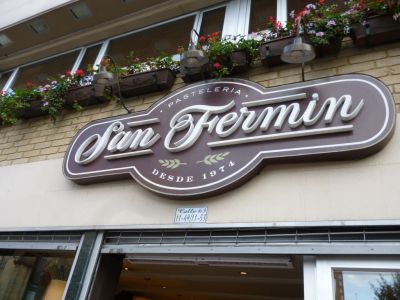 8) Pastelería San Fermin
The Pastelería San Fermin is located smack-dab in the middle of Chapinero, right across the street from the Lourdes Park and the Lourdes Church. San Fermin has recently undergone a significant updating and refurbishing and is now a very pleasant site to enjoy Onces in the late afternoon. The café offers a large selection of pastries and breads, not to mention gelato and hand-made chocolates, and if you sit toward the front of the restaurant, you will have a great people watching perch as San Fermin has large windows right on 63rd Street, which teems with people at this time of day. In addition, you get to observe the comings and goings and always entertaining encounters in Lourdes Park directly opposite.
9 9) Dulce Mini-Mal
Dulce Mini-Mal; the name in Spanish is a wonderful play on dulce minimal (minimal sweet) and dulce mini Mal (a little decadent sweet). This café is located in Chapinero Alto (Upper Chapinero) and it is the perfect place for quiet neighborhood Onces midtown. The owners of Dulce Mini-Mal also have a wonderful nearby restaurant and their particular emphasis is on Colombian flavors. Here is this romantic spot, you can enjoy exotic offerings like a chocolate and beer pie (yes), a beet and red wine cheesecake, spicy brownie balls, an Almojábana and native red fruit flan, and so much more. You may have to walk uphill from 7th Avenue, Carrera 7, to get here but the treats are worth it!
10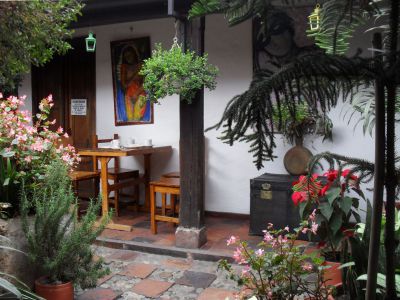 10) Café de la Peña, Pastelería Francesa
Café de la Peña is a sweet french bakery in the Candelaria area of the city. It you want a quiet and romantic spot to enjoy your Onces, this is it. The walls of the cafe are lined with contemporary art work, and there are different areas for sitting, including one that feels like your own private library. The courtyard in back is full of charm. Café de la Pená roasts its own coffee to insure freshness, and the sweet offerings here include chocolate tartlets, pralines, millefeuille, a creme caramel and knockout coffee eclairs. Enjoy the romance!
11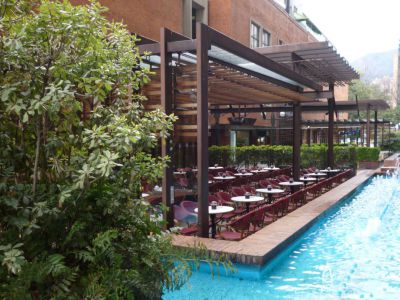 11) Il Pomeriggio
Il Pomeriggio is a very European style café located right at the Centro Andino shopping center at Carrera 11 and 82nd Street. This is one of the toniest shopping areas in Bogotá, and Il Pomeriggio fits in very nicely here. There is a genteel indoor seating area or an outdoor choice with heaters under glass. The cafe has long been known for its espresso and strong coffee, and the Italian menu has no shortage of food accompaniments. Here you can dawdle away the late afternoon with miniature cheese sandwiches, panini, antipasti and of course dolci. If you've been craving a Baileys Panna Cotta for Onces, Il Pomeriggio is the place you've been looking for!
12 12) Bagatelle
Bagatelle has several locations around the city, but this one close to the Zona T is my favorite. For some reason, the pastries and deserts which are on display in glass cases as you enter the restaurant here, stay clearly front and center in the mind's eye until you are ready to order them! The seating area has a leafy outdoors feel - though with heaters. The food offerings include arepas, sandwiches, panini and bagels. And as this is a French bakery, look forward to macaroons and madeleines with your Onces here.
13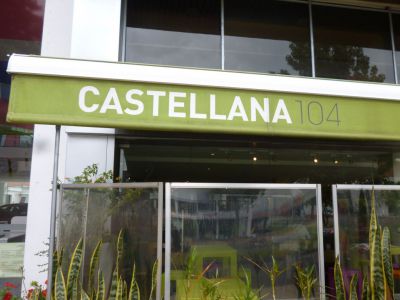 13) Castellana 104
The popular Castellana 104, in the north of the city, is on broad Carrera (or Avenida) 19. As you enter Castellana 104, there are tempting glass fronted display cases filled with breads, pastries and miniature sandwiches on either side of you. You can eat casually in this front area or even on the high childlike stools outside. Or you can be seated in the more restaurant like rooms to the back. Castella 104 has the traditional hot chocolate, Chocolate Santafereño, for Onces, and there is no shortage here of additional treats to accompany. Locals love this place.
14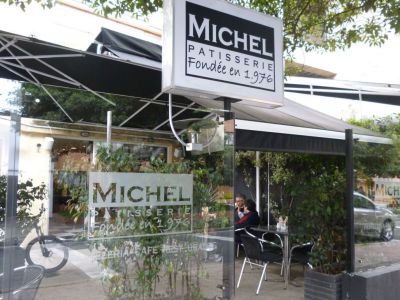 14) Michel Rosales
Michel has several venues around town. This one is just a couple of blocks from Masa in the Zona G. Michel Chalmin, a French pastry chef, arrived in Bogotá in 1976 and set about establishing an authentic French patisserie here, so it is no coincidence that you should feel yourself in a small corner of France at Michel. You can enjoy crepes and quiches, or for Onces, traditional French pastries, a plum tart, mille-feuilles, eclairs and meringues. Not only can you have hot chocolate at Michel, but you can have French hot chocolate!
15 15) Krost Bakery
This is the newest, hippest and friendliest Salon de Onces in Bogotá. When Krost Bakery opened up in Chapinero Alto only a few blocks from my apartment just recently, I was very happy. Krost is a variation on crust, and everything here is freshly baked. Everybody (including me) raves about Krost's Rollo de Chocolate (their chocolate croissant). Try it with a hot chocolate or a Hot Milo (a different and very Colombian hot chocolate drink). Krost makes a wonderful cinnamon apple turnover/croissant and if you see this coming out of the oven, have it immediately. Krost has a couple of tables off Calle 61 as you enter. Do not be deterred! Walking into the aroma of the bakery past temptation in the display cases on your left, you will come to a laid-back and cozy interior courtyard. Enjoy your Onces here. Krost Bakery is only a block off busy Carrera 7, but this is a world apart.
16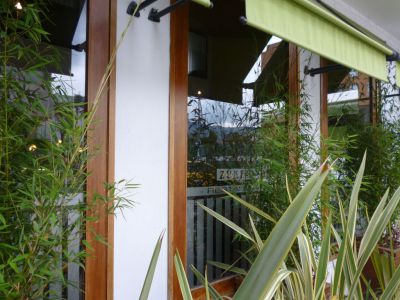 16) Zukerino
If you are walking in or near Virrey Park, Zukerino is just a short block away. This corner location is a busy hangout for Onces. The official address is Carrera 17, but the entrance is around the corner on Calle 90. There are some outdoor tables (with heaters), but most people seem to prefer to be indoors. For Onces here, there are quiches, empanadas, and pizzettas. On the sweeter side to accompany your cappuccino or mochaccino, you can have cheesecake, a brownie, or even better a Torta Mousse (a mousse cake) in a variety of Colombian flavors, mora, maracuyá, limón, curaba or guanábana.
Useful Travel Guides for Planning Your Trip
--- Enjoying Onces in Bogota
Elevenses, on the surface, seem to be a particularly British tradition, a break for something light and sweet between breakfast and lunch, a time to gossip, a time to catch up, a time just to be. Lo and behold, Colombia somewhere along the line adapted this tradition in a particularly Latin fashion.... 18 Uniquely Columbian Things to Buy in Bogota
To those who understand Russian, the word "Bogota" sounds very similar to the one translating as "rich". And, indeed, the city does live up to this name connotation in terms of peculiar things worth exploring in addition to coca, coffee and emeralds. Here's the longer list...