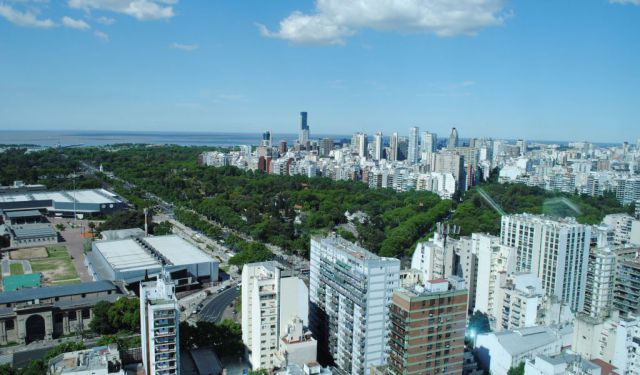 Palermo Attractions, Buenos Aires, Argentina (D)
Nestled in the heart of Buenos Aires is the trendy, residential neighborhood of Palermo. One of the original sectors of the city, today tree-lined cobblestone streets, restored buildings blended with original homes make this an enchanting urban community with a heart and soul. Attractions include the Palermo woods, museums, galleries, and more. This has become one of the most popular areas with tourists as the place to stay.
How it works:
The full article is featured in the app "GPSmyCity: Walks in 1K+ Cities" on
iTunes App Store
and
Google Play Store
. Download the app to your mobile device to read the article offline and create a self-guided walking tour to visit the sights featured in this article. The app's navigation functions guide you from one sight to the next. The app works offline, so no data plan is needed when traveling abroad.
Sights Featured in This Article
Guide Name:
Palermo Attractions
Guide Location:
Argentina » Buenos Aires
Guide Type:
Self-guided Walking Tour (Article (D))
# of Attractions:
10
Author:
Roy Heale
Author Bio
: I was born, raised and educated in London, England but spent the next forty years living in Canada. Five years ago I decided to relocate to Buenos Aires, Argentina for my semi-retirement days. My work experience has been in all levels of advertising, marketing, public relations, and publishing. I am now based in Buenos Aires and occupy myself as a freelance travel journalist for global magazines and websites.
Author Website:
http://www.royheale.blogspot.com
Sight(s) Featured in This Guide:
Rosedal--Rose Garden
Jardin Japones---Japanese Garden
Evita Museum
MALBA---the Museum of Latin American Art of Buenos Aires
Galileo Planetarium
Polo Grounds
Zoo
Plaza Serrano Market
Botanical Gardens
Sivori Museum
1 1) Rosedal--Rose Garden
In the 3 de Febrero Park the most visited sector is the Rose Garden which is next to a lake and protected all round by forged iron railings. The main features are The Garden of the Poets, with busts of famous writers from various countries, The Andalusian Patio built in 1929 and given as a gift to Buenos Aires by the city of Seville in Spain, The Bower, covered by climbing roses and vines with a sculpture by Emile Peynot called "Ofrenda floral a Sarmiento" and The Bridge, a magnificent wood construction across the lake designed by well known engineer Benito Carrasco in 1914.

The core of the Rose Gardens is "La Rosaleda" with all its varieties of roses where more than 12,000 flowers provoke an explosion of blossoms every spring.

Despite the night-owl culture of this city's residents, the parks are always humming with Portenos. But once inside the Rose Gardens there is a distinct air of tranquility.

The fountains, lakes, ornate bridges, pergolas, patios, gazebos, statues, and even the collection of International Rosas Nuevos, are neatly laid out and cultivated perfectly for a relaxing stroll through these manicured gardens.

On Sundays the streets around this park are closed to traffic and joggers, cyclists, and pedestrians enjoy this area. Street vendors with food and beverages plus many entertainers make this a pleasant Sunday meeting place.
2 2) Jardin Japones---Japanese Garden
In a city of thirteen million people you might think it is hard to escape the urban noise and bustle, but the Palermo woodlands are close at hand. One of the smaller parks within this green space is the Jardin Japones---Japanese Garden---where the Feng Shui influence creates a tranquil escape under the shadows of high-rise towers.

Under the care of the Japanese Cultural Foundation of Argentina these gardens have been in existence since 1969 to create a peaceful oasis for visitors to enjoy year-round. The park was created to honor a visit by one of the Japanese princes of that era. It includes a pavilion with a traditional Japanese tea-house, cultural center, library, sushi restaurant, and Oriental souvenirs. Plus of course the gardens are landscaped with lakes full of fish and ducks, footbridges, walkways, a greenhouse, and ornaments encompassing Feng Shui traditions. A leisurely stroll around the grounds will prove to be a very calming and tranquil relief from the busy city.

Throughout the year Asian cultural fairs and festivals take place in the grounds.

The garden is located at the intersection of Avenue Berro Adolfo and Avenue Casares opposite the Plaza Alamenia---German Plaza. The park admission is a very nominal two dollars towards the expenses and administration which provides several hours of enjoyment.
3 3) Evita Museum
Nobody knows for sure at what point Maria Eva Duarte de Perón became known as Evita, but everybody knows that she became a legend in Argentina during her thirty-three year life span (1919-1952). Immortalized by the 1978 Andrew Lloyd Weber musical Evita and later by the Hollywood movie starring Madonna, Eva Perón's life story is mythical. The Evita Museum shares her momentos with visitors.

This is a true rags-to-riches story of how a young fifteen year old girl from a small rural village heads to the big city where she creates a life of political power and influence which changes her country forever.

With such a colourful history to explore the Evita Museum offers a fascinating look at her life. From her involvement with the CGT (Argentina's main labour union), to her outstanding speeches at the Balcony of the Casa Rosada, this museum is full of engrossing tidbits and representations of her life.

The museum is housed in an early 1900s Italian Renaissance style mansion. Today this magnificent building is home to the largest and most important collection of Evita memorabilia, historic black and white news clips, her personal furniture, a bottle of her perfume, personal effects, clothes, and more. The Evita Museum opened on July 26th 2002 on the fiftieth anniversary of Evita's death.

You can also enjoy gourmet meals in the museum restaurant which also has a beautiful garden courtyard for outdoor dining.
4 4) MALBA---the Museum of Latin American Art of Buenos Aires
Just on the eastern edge of the Palermo Woods and close to the Alcorta Shopping Mall, is the home of MALBA---the Museum of Latin American Art of Buenos Aires. Whether you are an art officianado or just interested in Latin American culture, this is a must visit when in Buenos Aires. The modern, stunning grand entrance and three storey atrium, create a bright environment to display these unique artworks. Administered by the Fundación Costantini, MALBA opened its doors on September 21, 2001. It is a not-for-profit institution featuring the permanent exhibit of the Costantini Collection, and also a dynamic cultural center, that constantly updates art and film exhibitions and develops cultural activities.

The Costantini Collection consists of a selection of more than five hundred works, including drawings, paintings, sculptures and objects by artists from Argentina, Brazil, Colombia, Costa Rica, Cuba, Chile, Ecuador, Mexico, Uruguay and Venezuela.

Their mission is to collect, preserve, research and promote Latin American art from the onset of the 20th century to the present. This also involves educating the public of Latin American artists, in the diversity of cultural and artistic holdings in this region, sharing this education with both the national and international community.

The exhibits vary according to the dynamics of the Annual Program of Acquisitions and to the generous donations received from artists, their family members, and private collectors.
5 5) Galileo Planetarium
The Galileo Galilei Planetarium, commonly known as Planetario, is located in Parque Tres de Febrero in Palermo.The idea that Buenos Aires should have a planetarium began to take shape in 1958 by an agreement between Socialist Councilman José Luis Peña and the municipal Secretary of Culture, Dr. Aldo Cocca.

The planetarium itself is located in the centre of the structure, it has over 100 projectors and is approximately five metres (16 ft) in height and 2.5 tons in weight. It consists of a cylindrical framework with independent projectors for the Moon, the Sun, and the visible planets (Mercury, Venus, Mars, Jupiter and Saturn) and two spheres in the extremes that project 8,900 stars, constellations, and nebulas.

The building has five floors, six staircases and a 20 metres (66 ft) diameter auditorium with 360 seats.

Numerous special events and shows are held throughout the year appealing to families and adults.

The museum has a piece of lunar rock which was brought back to Earth by the Apollo XI mission and gifted to the planetarium by Richard Nixon. It is also home to a collection of 100 million year old sea life and amonite fossils from Neuquén Province. A metallic meteorite from Chaco Province is displayed on the entrance terrace.

Showtimes and special events are posted on the official website.
6 6) Polo Grounds
The tradition of high quality and exciting polo games has long been an Argentine custom and even HRH Prince Charles has competed in Argentina. The Campo Argentino del Polo, popularly known as the 'Cathedral of Polo', is a multi-purpose stadium which is currently used mostly for polo, pato and field hockey matches. The Neo-Classical stadium, opened in 1918, holds up to 30,000 people and is located in Palermo at Libertador Avenue 4300, close to Las Cañitas.

Polo, the aristocratic bastion of sportsmanship and breeding, has been popular in Argentina for over a century.

This is a unique polo field, situated ten minutes away from downtown Buenos Aires, and home to the Campeonato Argentino Abierto de Polo---the most important polo event in the world---held there since 1928. Though inaugurated in 1918, the stadium is also the most complete, modern, and comfortable for spectators and the field is in excellent condition for the sport's competitors.

The Campo de Polo was one of the venues for the 1950 Olympic Games, and the America's Polo Cup (Copa de las Américas) has taken place there on numerous occasions. In this classic match, the best team from Argentina plays against the best one from the United States. It also hosted matches for the 1978 World Hockey Cup.

Complete details for upcoming polo matches, competitions, and special events are listed on the official website.
7 7) Zoo
Opened on November 11th., 1875, the zoo is adjacent to the Plaza Italia, Palermo. Past the historic entrance gates vistors encounter a panoramic view of the Darwin Lake complete with flamingos. This 19th century romantic landscape includes ruins in the center of the lake made of authentic Byzantine marble brought from Trieste in 1910.

Many animal dwellings emulate the animal's native settings---Indian elephants roam around a miniature temple, while red pandas mill about a Chinese pavillion. The white Bengal tigers and their cubs are one of the zoo's main attractions.

The grassy areas are full of native birds and rodents. Nutria, rabbits, and peacocks roam freely. A variety of monkeys and small mammals inhabit the zoo. Although some are in cages, others are housed on the islands in the zoo's many ponds.

At the Farm visitors can pet and feed ponies, donkeys, sheep, and goats.

Inside the Aquarium, visitors see penguins, as well as fresh water fish including piranha and sea dwellers. The Tropical Rainforest is a two story building displaying tropical plant life, and contains an indoor waterfall. Big cats at the zoo include pumas, cheetahs, jaguars and lions. Other animals at the zoo include red pandas, camels, llamas, giraffes, bison, hippos, and elephants. Polar bears are housed in an exhibit that includes an underwater viewing area, Camels are exhibited amidst Moroccan-style architecture, and kangaroos are surrounded by aboriginal paintings.
8 8) Plaza Serrano Market
The popular Plaza Julio Cortázar---a.k.a. Plaza Serrano---is home to one of the largest craft fairs in the city. Located in the bohemian neighborhood of Palermo Soho, between Honduras and Jorge Luis Borges, the craft market is every Saturday and Sunday throughout the year. If the weather forecast indicates heavy rain, most of the carnies choose not to work, but with a little rain eventually, artisans open up their booths.

The merchants include perfumes and fragrances, handmade jewelry with stone, leather, silver, and wood plus a huge variety of leather goods. Dozens of artists showing their works and creating them can be found in the square and beyond.

Strolling around Plaza Serrano one can observe musicians, painters, cartoonists, dancers, clowns, and more.

After going through all the artisans booths many visitors will stop and relax at one of the numerous cafes and restaurantas surrounding the plaza. Many have rooftop terraces and outdoor patios. Another great pastime is shopping at the many fashionable businesses and boutiques around the square.

Although Saturdays and Sundays are the most popular days to visit Plaza Serrano, many people enjoy the scenery on the quieter weekdays and several merchants can be seen on any given day. Also, the scenery at night, when everything is colourfully illuminated, looks completely different to during the day. This is an extremely popular spot for locals and tourists alike, especially as a place to sip on a cocktail at sunset.
9 9) Botanical Gardens
The Buenos Aires Botanical Garden (Jardín Botánico Carlos Thays) located adjacent to Plaza Italia in Palermo, is triangular in shape, and is bounded by Sante Fé Avenue, Las Heras Avenue and República Árabe Siria Street. It was declared a national monument in 1996, has a total area of 17.241 acres, and holds approx 5,500 species of plants, trees and shrubs, plus a number of sculptures, monuments, and five greenhouses.

Designed by French-born Argentine architect and landscape designer Carlos Thays, the garden was inaugurated on September 7, 1898. Thays and his family lived in an English style mansion, located within the gardens, between 1892 and 1898, when he served as director of parks and walks in the city. The mansion, built in 1881, is currently the main building of the complex.

Within the garden is the Municipal Gardening School Cristóbal María Hicken. The garden also contains thirty-three artistic works including sculptures, busts, and monuments.

Other attractions include the five winter-houses, the largest of which is in Art Nouveau style and received recognition in the Paris Universal Exhibition in 1889. It houses 2500 tropical plants and is considered to be the only greenhouse in that style still operational in the world.

The Botanic Library has 1,000 books and 10,000 publications from all parts of the world, which are freely available to visitors. The park also contains a Botanical Museum.
10 10) Sivori Museum
The history of the Sivori Museum and gallery dates back to the early 1930s and this charming, hitsoric building is located across from the Rosedal. This is worthy of a visit especially for coffee or tea in the sculpture garden after perusing the artworks. Founded on the initiative of a city councilman who proposed the creation of a municipal museum devoted to Argentine artists in 1933, the institution was inaugurated in 1938. This became the venue for the annual municipal art salon, first held in 1936.

In 1995 an initiative by Mayor Jorge Domínguez resulted in a permanent home for the museum, the former El Hostal del Ciervo Café, where it is still located today. The Norman-style building, built in 1912, was refurbished with a modern annex, and inaugurated on August 4, 1996. Directed since its reinaugural by María Isabel de Larrañaga, maintains over 4,000 works. Among the Argentine artists represented are Líbero Badii, Cesáreo Bernaldo de Quirós, Antonio Berni, Pío Collivadino, Lucio Correa Morales, Pedro Figari (Uruguay), Antonio Pujía, Guillermo Roux, Lino Enea Spilimbergo, Rogelio Yrurtia, and its namesake, Eduardo Sívori.

The permanent exhibit halls are complemented by one for temporary displays, an art library, restoration workshop, and the Ivelyse Gordon de Grimaldi Sculpture Garden.

It also includes an open space, library, multipurpose rooms for courses, conferences and theater, a small amphitheater, a tearoom, and gift shop.
Useful Travel Guides for Planning Your Trip
---