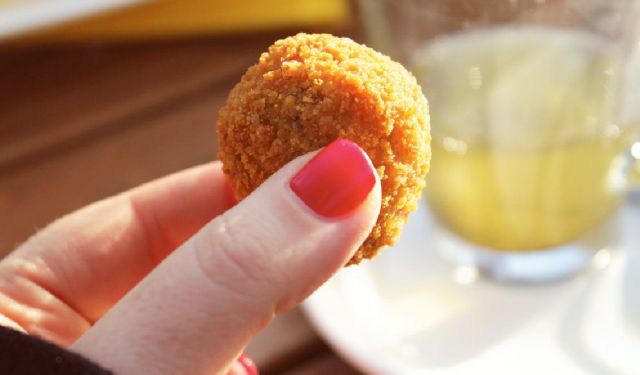 Netherlands, Amsterdam Guide (D): Taste the Top 15 Dutch Foods
Dutch cuisine may not be as well-known as French or Chinese food. But that doesn't mean there aren't tasty treats to be found here in Amsterdam. There are many Dutch foods that must be tried at least once when visiting the Netherlands. Here's a list of 15 foods and drinks you should be sure to sample, and places around Amsterdam where you can find them.
This article is featured in the app "GPSmyCity: Walks in 1K+ Cities" on
iTunes App Store
and
Google Play
. You can download the app to your mobile device to read the article offline and create a self-guided walking tour to visit the attractions featured in this article. The app turns your mobile device into a personal tour guide and it works offline so no data plan is needed when traveling abroad.
Attractions Map
Guide Name:
Taste the Top 15 Dutch Foods
Guide Location:
Netherlands » Amsterdam
Guide Type:
Self-guided Walking Tour (Article (D))
# of Destinations:
15
Sight(s) featured in this guide:
Poffertjes
Bitterballen
Stroopwafels
Koffie Verkeerd
Hollandse Haring
Gouda Cheese
Pannenkoeken
Tosti
Dutch Beer
Drop
Stamppot
Patat
Appeltaart
Jenever and Dutch Liquours
Rijsttafel
Author:
Shoshannah Hausmann
Author Bio
: I love interesting people, good food and drink, and beautiful sights. Walking around a city to explore its nooks and crannies can reveal amazing treasures. Come walk with me!
Author Website:
http://www.awesomeamsterdam.com
1 1) Poffertjes
Poffertjes are small, fluffy pancakes made with yeast and buckwheat flour. These tasty treats are prepared using a special pan with several shallow indentations in the bottom to hold the batter and make perfectly puffed small pancakes. Poffertjes are typically served at outdoor markets, and are topped with powdered sugar and warm butter. The wind blowing the powdered sugar around covering your face and clothing in white dust is part of the fun!

You can find poffertjes during the fall and...
2 2) Bitterballen
Bitterballen are deep-fried snacks that are ubiquitous in cafes and bars all over the Netherlands. These savory orbs are battered in a crunchy breadcrumb coating and filled with a gooey mixture of chopped beef, beef broth, flour, butter, herbs and spices. They are served with mustard for dipping, and pair perfectly with a cold beer.

Be very careful when you bite into the balls as they are usually burning hot inside!

Order bitterballen at any traditional style bar or café with a small...
3 3) Stroopwafels
This sweet snack is a waffle cookie made from two thin layers of batter with a sticky syrup filling in the middle called stroop. They can be purchased in packages at nearly every grocery store in Amsterdam, as well as freshly made at street stands at markets and festivals.

In Amsterdam find fresh stroopwafels at the Albert Cuyp street market, which is open during the day from Mon-Sat. Follow your nose to the stand and order a big ooey-gooey cookie from the stand usually located about halfway...
4 4) Koffie Verkeerd
Visit any cafe or restaurant in the Netherlands and you are sure to notice someone ordering a koffie verkeerd. This is the Dutch version of a caffè latte or café au lait. It is traditionally a hot cup of coffee with a lot of warm milk, but is most commonly served as an espresso with a lot of steamed milk and some froth, as well as a little cookie on the side.

Koffie Verkeerd means "wrong coffee" because of the large amount of milk, as opposed to a regular coffee which would be...
5 5) Hollandse Haring
A very traditional food in the Netherlands, Hollandse haring should be tried at least once. The raw herring fish is typically served with chopped onions, and can be eaten with or without bread. Traditionally they are eaten by grabbing the fish by the tail, tipping your head back and dangling the fish into your open mouth to take a bite. If that doesn't seem appealing, haring can also be eaten in small pieces or on a sandwich called broodje haring.

This Dutch style herring is marinated in...
6 6) Gouda Cheese
If you like cheese, you must try the many varieties of Dutch gouda. Goudse Kaas, as gouda cheese is known in the Netherlands, is a traditional cow's milk cheese that is eaten at all stages of ripeness, from Jong (young) to Oud (old). The flavor depends on the age, with young cheese being softer and much milder and aged cheeses having a salty tang and a firmer texture.

The Dutch also sometimes incorporate spices like cumin, black pepper, and coriander into gouda cheese. Gouda style cheese...
7) Pannenkoeken
Pancakes are common around the globe, but the Dutch give pancakes their own spin as pannenkoeken. The Dutch version is a lot larger and flatter than the American pancake, but slightly thicker than a French crêpe. Traditionally they are eaten for dinner. The pancakes sometimes incorporate bacon, cheese, vegetables or fruits and are served with a dark sugar syrup (stroop), powdered sugar, or jam. The most classic pannenkoek is bacon topped with stroop.

Most Dutch folks eat their pancakes by...
Image by FotoosvanRobin under Creative Commons License.
8 8) Tosti
Delicious for lunch or as a snack, a tosti is a quick and easy sandwich that can be found at most cafes in Amsterdam. The simplest version of the tosti is a toasted cheese sandwich that often includes ham or salami as well. It can be ordered on white or brown bread. Try a basic tosti at most cafes around Amsterdam along with your koffie verkeerd or a beer for the perfect pick-me up while sightseeing.

While a plain tosti with simple Dutch cheese is delicious, the gourmet versions are yummy...
9 9) Dutch Beer
Nearly everyone has heard of the famous Heineken Dutch beer. But you don't really know Dutch beer until you've sampled more from the variety of beers brewed in the Netherlands.

There are more than 50 breweries in the Netherlands. Amsterdam even has a few local breweries. Some of the beers are similar to the Belgian Trappist beers like blondes or dubbels, but there are a wide range of styles and flavors including pilsners, stouts, ales and lagers.

The best place to try a range of...
10 10) Drop
The Dutch truly love their licorice or "drop" as it is known in the Netherlands. You can find it in many shops around Amsterdam. There is a flavor or type of drop for every taste from sweet to salty, hard to soft. Drop comes in many shapes and sizes from small Groente Erwten (green peas) to large Muntdrop chewy coins.

Although the Dutch adore black licorice, some people do not enjoy the taste, especially the salty varieties. Sample from the wide variety of flavors to see if there is...
11) Stamppot
Traditionally served during wintertime, stamppot may be the epitome of Dutch cuisine. Hearty, and tasty but definitely not fancy, this filling dish consists of mashed potatoes mixed with vegetables like kale or carrots. It is usually served with rookworst, a smoked sausage, and sometimes bacon or meatballs.

The best stamppot is of course homemade. But if you can't get an invite into a Dutch home, there are many places in Amsterdam to sample this food. A fun concept is Stamppotje, which...
Image by M.M.Minderhoud under Creative Commons License.
12) Patat
Patat are thick and crispy chips or fries that are said to have been invented in the northern part of Belgium, and are thus often called Vlaamse friet.

The Dutch enjoy their patat with mayonnaise and also with a combination of unique toppings. Try patatje oorlog, a conglomeration of peanut saté sauce, mayo and onions that might give your stomach a lesson about the meaning of the name (oorlog means war). Or try the patat speciaal which includes curry ketchup, mayonnaise and onion.

...
Image by Takeaway under Creative Commons License.
13 13) Appeltaart
Appeltaart is the ultimate Dutch dessert. It's served in nearly every cafe and restaurant in the Netherlands. This apple treat is something like a combination of American apple pie and a cake. It's typically served warm with a dollop of whipped cream (slagroom) on the side. Appeltaart goes really well with another item on our list, koffie verkeerd.

While you can sample Dutch appeltaart at cafes all over Amsterdam, many agree that the best appeltaart is served at Winkel in the...
14 14) Jenever and Dutch Liquours
Jenever is a distilled liquor flavored with juniper, from which gin evolved. It's stocked in nearly every bar in Amsterdam, many times in the traditional-looking red clay bottles. You'll see two types of jenever, oud (old) and jonge (young). This refers not to the age of the liquor, but rather the old or new style of distilling.

Sample jenever at many bruincafes or traditional bars around town, or visit a special tasting room like Wynand Fockink. This historic distillery and tasting...
15 15) Rijsttafel
Although rijsttafel is made up of Indonesian dishes, this meal style is said to be a Dutch invention. The delicious Indonesian cuisine has been embraced in the Netherlands since Indonesia was a colony of the Netherlands beginning in the 1800s. The Dutch arrived in Indonesia in the 16th century in search of spices, and the wonderful foods from that area of the world have become a part of Dutch cuisine.

Rijsttafel consists of rice with many small dishes of spiced vegetables and meats. These...
Useful Travel Guides for Planning Your Trip
---